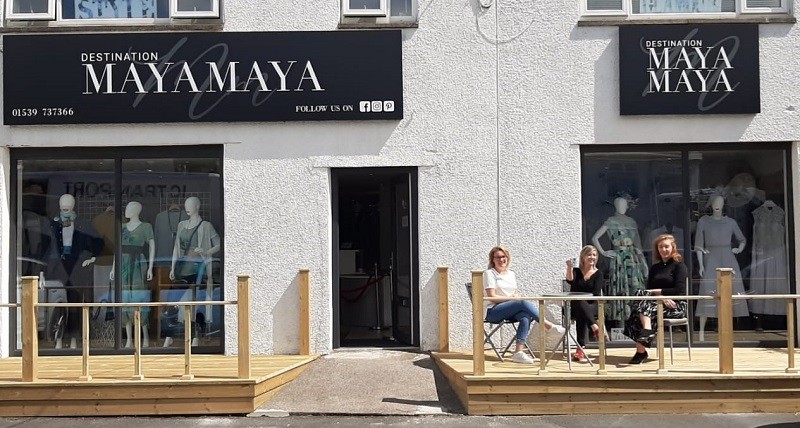 Maya Maya have designed & adapted their brand-new fashion boutique with Covid guidelines in mind.
Giving customers the space to feel comfortable whilst still enjoying their styling experience.
ONLINE SHOP
Like most small businesses, Maya Maya closed in March 2020 due to Coronavirus, just before their move to a new out of town location.
Maya Maya is very aware that "The new 'normal' involves more time. browsing online so during lockdown Maya Maya built a brand-new online shop, showcasing some of their collections.
Amanda, Owner said: "I have fought taking the business online but it really is the future for all independent retailers, a strong bricks and mortar store backed up by a comprehensive online presence feels right for us at this challenging time.  Occasion wear will still be a large part of our business going forward but will always be in store, by appointment, only and not something we will offer online."
DESTINATION MAYA MAYA
We are aware, however, that our loyal customers, still enjoy the styling experience, so we have designed and created a new "Destination Boutique" allowing our customers to still have the personal shopping experience in a safe, spacious luxury boutique.
What has Maya Maya done to create a new, safe, shopping experience during the pandemic?
Maya Maya is now an out of town location with its own free private parking so customers can park right at the door.
Maya Maya has built an outside seating/ relaxing area to accommodate. As Covid guidelines restricts the number of people who can shop at any one time, the outside seating area can accommodate people who may need to wait.
On entering the boutique, customers will also see a reception area and can digitally browse Maya Maya's collections via a large TV screen, keeping touching of goods to an absolute minimum.
Maya Maya have built fabric free fitting rooms which are sanitised regularly.
Maya Maya have designed and manufactured their own stylish face masks too, for both women AND men.
Maya Maya has also brought Maya Maya Man back to the business, after a short respite