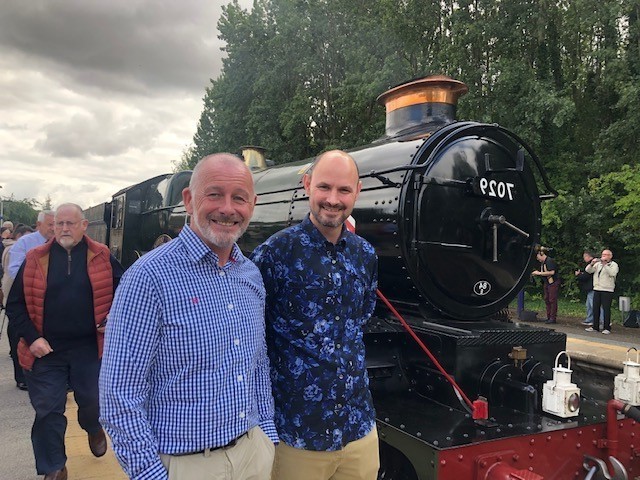 After 35 years in the army, joining as a private and leaving as a captain, 58-year-old Geoff Wilson* from the South Lakes area of Cumbria was ready for change and had long considered becoming a foster carer.
On the day he retired, he opened a Victorian-themed tearoom and the adjoining village shop with his partner Stephen and a few years later the pair embarked on a life-changing journey as foster carers.
Geoff and Stephen welcomed Aiden, then nine, to their family shortly before Christmas five years ago – and wholeheartedly recommend others to 'take the leap' and make a difference to a child's life, describing fostering as "best thing we've ever done".
Fostering had always been a dream of Geoff's despite already having two birth daughters and a son, but it was while on holiday with partner Stephen, who had not yet had children, that he finally decided to take the plunge.
"By chance, I'd picked up a novel that was lying around in the hotel foyer, written by a full-time foster carer. I couldn't put it down, it was so inspiring and heart-warming to read about how emotionally-damaged lives had been turned around with love and security.
"That sealed it for me and gave me the confidence to embark on fostering. We got back from holiday and registered for the assessment process straightaway, choosing to foster through Fostering Solutions, part of National Fostering Group, as we'd heard their support network was outstanding."
In 2015, Geoff welcomed Aiden to their home – a withdrawn young boy who had suffered 'attachment trauma' and was struggling socially and academically, having been placed with multiple different foster carers from the age of four, some as far away as 370 miles from his Cumbrian roots.
"He didn't think people liked him," said Geoff, "and didn't understand why he'd had to move families so many times. He would often pull an 'angry face' and was very insecure. He couldn't concentrate on school work for long enough to write half a page."
But Aiden settled in amazingly quickly, and started to thrive on the love, stability and the one-to-one support Geoff was able to give him.
"The 'bonding' experience we shared was a story in itself," said Geoff.
"Aiden had only been with us a couple of weeks and we were on our way back from a Christmas shopping trip when our Land Rover got stuck in a flooded road as Storm Desmond hit.
"I had to pull Aiden free through the window, and from that moment I became his 'action man hero'."
Spending that Christmas and the next six months in a rented holiday cottage – as their home had flooded during the storm – only brought the family closer together.
"What he needed most were was love, time, stability, and the chance to build self-esteem.
"For the first time in his life, Aiden got a taste of what it was like to do well, and he's gone from strength to strength.
"He's a brilliant all-rounder and loves going to scouts, hockey and tennis clubs; he also now represents England in judo.
"In his most recent school report he came top of his year in nine subjects. He really is a smashing boy with a lovely smile and we are so proud of him!"
Geoff added: "Patience, security and love are the main ingredients for fostering. Step back and try to understand why the child is behaving in a certain way – if you look carefully, there will always be a reason. This will help you to find strategies to help resolve issues. The support from our agency is incredible – I've attended lots of training courses which have opened my eyes to therapeutic parenting and how important this is in helping young people through their difficulties so that they can reach their potential."
To make Christmas extra special this year – at a time when the ongoing pandemic will make it difficult to enjoy the big family get-togethers that Aiden now loves – Geoff will be taking Stephen, Aiden and their dogs in their new VW campervan to the top of Ingleborough, one of the peaks in the Lake District, for what promises to be a very memorable Christmas dinner.
Geoff is now urging others to open their hearts to fostering. "If you've ever considered fostering, definitely make that call, find out more. You've nothing to lose and everything to gain. Becoming a foster carer is so rewarding – it's the best thing I've ever done. If you can help by fostering just one child, you'll be making a difference. There are thousands more waiting for a loving, nurturing home."
*A different surname has been used for privacy purposes