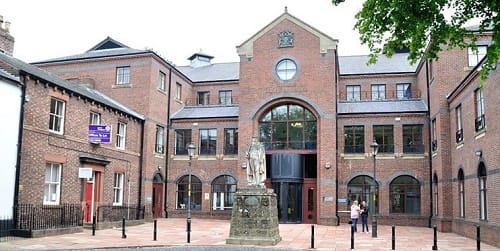 An Egremont man accused of encouraging his dog to "attack" police officers who entered his home has gone on trial in front of a jury.
Tony Wardle, 51, was visited by a sergeant and three constables on August 18 last year as enquiries were made into an alleged incident the day before.
Wardle, of Lamb Court, is on trial at Carlisle Crown Court and denies two charges. One alleges he assaulted police sergeant Joanne Philip. A second alleges he was in charge of a dog which caused injury whilst dangerously out of control.
Video footage from a body-worn camera was played to a jury this morning and showed officers initially speaking to Wardle through an open downstairs window. "The defendant was truculent, belligerent, confrontational and aggressive," alleged prosecutor Alaric Walmsley, opening the case.
Wardle repeatedly told officers to "jog on" before speaking to Sgt Philip, who was on the doorstep. He was informed police had a power of entry before officers went inside and told him he would be arrested.
Giving evidence, Sgt Philip said Wardle was, in her opinion, "aggressive". She told jurors he motioned with his hand and said "words similar to 'go and get them'". "I believe that he was telling the dog to come and attack us," said the officer, who added: "I felt a sharp pain in my left calf."
Sergt Philip was bitten by the terrier, Digger. She suffered a small bruise and tooth mark on her leg and was prescribed antibiotics after attending hospital. Sgt Philip dismissed a suggestion from Wardle's lawyer, Sean Harkin, that the householder's words were actually "get in, Digger".
The court was told Wardle denies saying anything to encourage his dog, that he didn't intend for it to bite nor that his actions caused it. It's also said he believed the officers were trespassing and had no right to enter his home.
The trial continues.