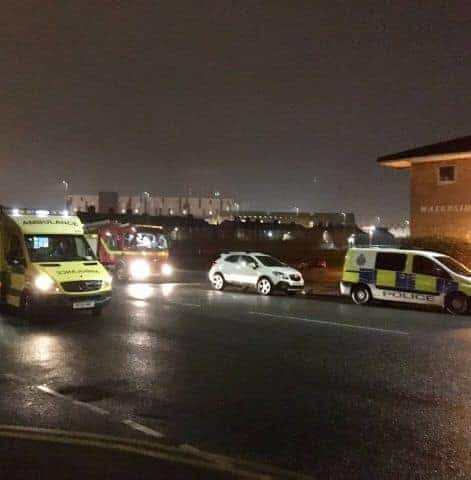 Volunteer crew from the RNLI's Barrow Lifeboat Station launched their inshore lifeboat following reports of a person in the water in Walney Channel.
The call for assistance was received from the regional HM Coastguard base in Holyhead at 8.40pm last night.
The Coastguard requested the lifeboat launch to assist in the search for the person who was reported to have jumped off Walney Bridge, also known as Jubilee Bridge, into Walney Channel.
The crew was paged and the Barrow inshore lifeboat, Vision of Tamworth, was launched at 8.50pm with Shaun Charnley at the helm, assisted by Saul Tomlin and Sean Hagan.
The lifeboat headed towards Jubilee Bridge and initially found two people in the water north of the bridge who had been observed clinging to a vessel in the channel but who then began to swim back to the shore.
However, Furness Coastguard who were also on scene reported that neither of the two individuals matched the description of the person who was reported to have jumped from the bridge.
The lifeboat and search teams were tasked with conducting a search between the bridge and North Scale to try and locate the casualty.
However, it was subsequently established that the person who jumped from the bridge had been witnessed exiting the water.
Based on that information, the Coastguard informed the rescue teams at 9.55pm that they could stand down and return to their respective bases.
The lifeboat was back at the boathouse shortly after 10.15pm where it was washed down, refuelled, and made ready for the next launch.
Cumbria Police, Cumbria Fire and Rescue Service, North West Ambulance Service and Millom and Arnside Coastguard Units were also in attendance.