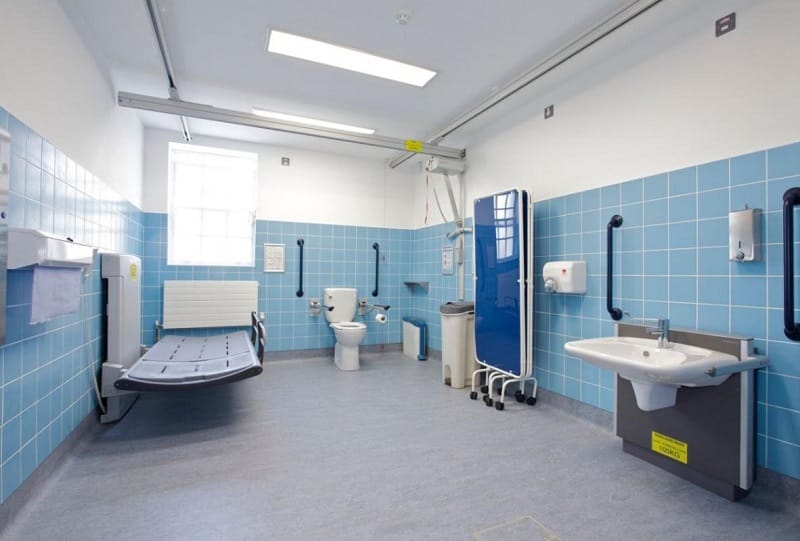 [D]isabled people in Carlisle are set to benefit from a £30,000 investment from Cumbria County Council into specialist Changing Places toilet facilities at two locations in Carlisle City Centre – Cumbria House on Botchergate, and The Lanes Shopping Centre.
The facility at Cumbria House is located in the public reception area on the ground floor at the council's Botchergate offices, and is available for the public to use Monday – Friday between 9am and 5pm. The facility at The Lanes opens on Friday 26 May and is part of the brand new toilet facilities at the shopping centre, located on the first floor opposite the entrance to Carlisle Library. The Lanes Changing Places toilet will be accessible by a special radar key, available to loan from the library enquiry desk.  Alternatively, radar keys can be purchased from Carlisle Shopmobility for £3 each during their office hours of 10am – 4pm Monday to Friday, or from Carlisle Tourist Information Centre.
The new facilities will make a huge difference to disabled people and their families, library users, shoppers and visitors to the city centre. The Lanes Shopping Centre is the fourth facility of this kind funded by Cumbria County Council with Changing Places toilets already open at Kendal Leisure Centre, Copeland Pool and Leisure Centre in Whitehaven, as well as Cumbria House in Carlisle. Changing Places toilets have enough space to accommodate wheelchairs and are fitted with specialist equipment including a height adjustable changing bench and a hoist.
Georgina Ternent, a Public Health Manager for Cumbria County Council, said: "I'm delighted we've been able to make this investment and it's great to see the difference it can make. Disabled people can face serious challenges getting out and about and enjoying the day-to-day activities many of us take for granted. These new facilities in Carlisle should make a huge difference to library users, shoppers, visitors to the city centre and their families, and I'm looking forward to more Changing Places facilities opening in Cumbria in the future."