[S]ome of Cumbria's top food and drink producers had their products showcased at one of the world's largest motoring events earlier this month.
Two large 'Taste of Cumbria' hampers packed full of goodies from more than a dozen Cumbrian producers were personally delivered to the prestigious Goodwood Festival of Speed in West Sussex.
Local aerial services company, JB71 run by Grange-over-Sands couple Andrew and Amanda Brass, came up with the idea of the hampers after frequent visits to events at the Goodwood Estate highlighted a lack of awareness of Cumbria.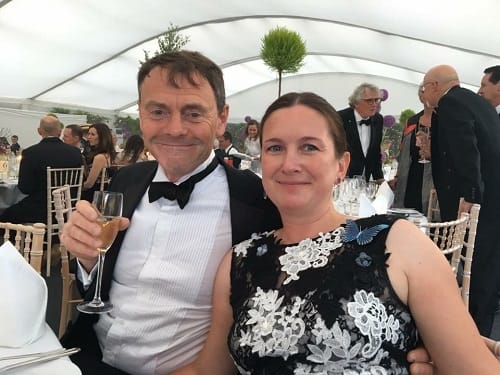 Andrew, who was taking part in the Festival's famous Hillclimb in his Andy Rouse Ford Sierra Cosworth RS500 'Kaliber' touring car, said: "We've been invited to previous Goodwood meets and when talking to staff at the Estate, Cumbria feels like a million miles away to them! We thought the hampers would be a good way to raise awareness with Lord March and his Goodwood Estate staff of the excellent produce we have here in Cumbria, as well as getting the products in front of a new audience.
"We contacted various local producers to ask if they would like to contribute a few samples of their products but were so overwhelmed by the response that we ended up with two large hampers plus two additional boxes for the 650-mile round trip!
"The hampers were gratefully received by the Goodwood team and we want to thank everyone for their amazing support. We had a fantastic time at the event and were honoured to have met some of the great stars in Motorsport and to drive up the Goodwood hill was a dream come true!"
Before handing over the hampers, the couple made sure to get photographs of each of the products against the iconic backdrop of the 2017 Festival of Speed central feature at Goodwood House. These were then shared with each of the producers on social media.
The twelve producers contributing to the hampers were:
Coniston Brewing Company
Windermere Brewing Company
Willow Water
Hawkshead Relish
Kin Toffee Vodka
Grasmere Gingerbread
Barngates Brewing Company
Ginger Bakers
Carvetii Coffee
Romney's Kendal Mint Cake
Hawkshead Brewery
Lakes Distillery
The Goodwood Festival of Speed attracts up to 150,000 over four days and is the largest car culture event in the world.