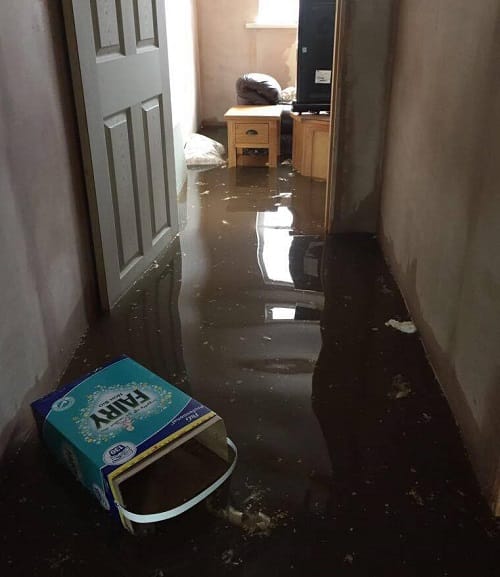 [T]rudy Harrison MP commended Millom's 'community spirit' after visiting a number of homes affected by yesterday's flooding.
With no more reports of any further flooding expected, the attention quickly turned to the clean up and recovery operation for residents who were hit hardest by the weather's effects.
Local police confirmed that no reports of any injuries were received.
Trudy Harrison MP, said: "I received a phone call from Cumbria County Councillor, Doug Wilson alerting me the extent of the flooding.  I immediately attended yesterday afternoon, met by Jenny Brumby who had been out all morning helping people.
"Millom is an exceptional town and that special quality of incredibly strong community spirit stood out beyond belief yesterday.  The whole town was out to help the 200 homes affected."
Mrs Harrison visited severely affected homes across the town, speaking with residents.
Mrs Harrison said: "I visited one home where a teenage girl, at home whilst her parents were working, used her initiative to plug doors with towels and soak up water with duvets which made a tremendous difference to the damage the water would make.
"Ambulance, Police and Fire and Rescue received 999 calls from 9am and by 10am they had escalated.  All emergency services worked tremendously hard, to superb effect, all day.
"Copeland and Cumbria Councils brought sandbags and extra drainage equipment, again working all day and the Environment Agency were there too.  A multi-agency response was very much required and they responded very well indeed."
The local Tesco store in Lancashire Road, which had also been affected, provided food and supplies to the response teams.
A Just Giving page has been set up by the local community to raise funds to help local people, many of whom don't have insurance, make right and get back into their homes – £1,250 has been raised so far.
Mrs Harrison continued: "The rugby teams were out helping; Millom's Mayor Angela Dixon was rodding drains.  I visited homes and was told of water ingress through the floor – not just the door.
"Preparedness is key.  The Gold command worked extremely well yesterday and I would like to thank all organisations involved. A Just Giving fund has been set up, particularly for those without home and contents insurance, please support if you can."
An investigation is now underway to understand the cause of the devastation.
Mrs Harrison, added: "Clearly the extent of the rain was exceptionally heavy but if flooding and the devastation to homes and businesses could have been prevented – if drains were blocked or sluice gates not opened as people question, we do need answers.
"I know the town council is currently preparing an emergency plan procedure which will be sent to every household – these are essential in times of increased unexpected weather events."
At 10:14am firefighters were called to two semi detached properties which had been affected by flooding in Moor Road, Millom. The garden was under three feet of water and the wall of one properties had come down.
The crew used a light portable pump to remove water from the properties to nearby fields.
At 10:49am firefighters were called to Mylnebeck Court, Windermere to flooding. Cars were pushing water towards a premises and sandbags were needed.
The crew assisted with the rescue of two people stuck in a property that had three feet of water outside and was entering a property.
A pump was used to divert water from the property and police were in attendance.
At 11:10am firefighters were called to flooding in Haverigg Road, Haverigg.
Firefighters used a pump to remove water to nearby fields.
At 11:13am firefighters were called to flooding which was affecting a property in Victoria Road North, Windermere.
The crew used a light portable pump to help reduce the water.
At 11:21am firefighters were called to a property and main street flooded in Green Street, Haverigg.
The crew used 10 lengths of hose and a pump to remove water from the street and property.