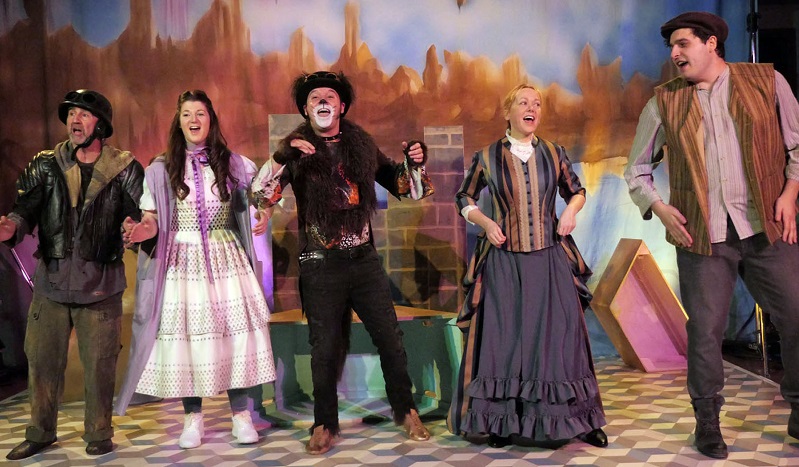 [A]lnwick based, NTC has teamed up with Highlights Touring Scheme to bring their seasonal show to Carlisle's Old Fire Station, offering a pre-Christmas treat for children aged 5+ and their families.
Princess Irene is to be the bride of the goblin king's son; unfortunately he hasn't actually asked her yet.   The Princess and the Goblin is an exciting adventure about the goblins attempts to steal away the princess and her success in avoiding them with a lot of help from Curdie, the miner's son, and her mysterious great-great-grandmother, who no-one else can see.
The Princess and the Goblin  is a story about growing up, making friends and the importance of family and is performed with song, dance and some fun along the way. The show is written by George MacDonald, directed by Louis Roberts, adapted by NTC's Karen Hirst and is told in NTC's fast-paced, physical style.
NTC is a professional small-scale touring theatre company based at the Alnwick Playhouse in Northumberland. They tour shows around the country, predominantly using village halls and arts centres in rural towns and villages.
"NTC's productions may be small-scale and done on a shoestring but they are backed by a team which can match anything done by much bigger, purpose built theatres and whose imagination and ability to weave a storytelling magic as they transform unpromising spaces into theatres for the night is second to none" – Lynn Gardner, The Guardian
LISTINGS INFORMATION
Date/ Time:                Wednesday 13th December 6pm
Venue:                        Old Fire Station, Peter Street, Carlisle CA3 3QP
Age suitability::          5yrs + and their families
Tickets:                      £10/ £5 conc
Bookings:                  Via Carlisle Tourist Information Centre 01228 598 596 and http://oldfirestation.carlisle.city