[I]n Division One of the James Cropper Westmorland League it was time for the first midweek fixtures as the League struggles to play catch up with the large number of fixtures lost to the winter weather. There were three tuesday night matches in Division One and Endmoor KGR scraped a last minute away win over Kendal County Reserves with a goal from Brad Hodgson with the final kick of the game. Shap had to have their pitch inspected mid afternoon, but their game with Sedbergh Wanderers went ahead and Shap won this 3-1.
Two goals from Ben Palmer and one from Luke Fraser saw Shap go 3-0 up but the visitors scored late on to set up a edgy finish, but Shap held on in the gloom to take the points and move further clear of the relegation zone, with Sedbergh left second from bottom. In a match moved to Queens Park, Winderemere SC had a good 2-1 over Ambleside with the deadlocked game decided by a penalty, leaving Ambleside rooted to the bottom of the Division.
And it was a full day of fixtures on Saturday in Division One of the League. Table toppers  Keswick were at home to Kendal County Reserves on a bitterly cold afternoon in Fitz Park, and won through with an impressive 7-0 score line, and although Kendal had their chances and looked quick on the break, a dominant display by Keswick saw them earn the three points with the goals from a Richard Bannister headed hat trick, a brace for Declan Robinson, a Karl Southern penalty and a late strike from substitute Andy Rigg.
Bottom club Ambleside United faced up to  third placed Appleby but went down 1-5 with the Appleby goals from a Jordan Crawford brace, Anthony Lund, Jack Overs and Dan Robinson. Ibis, who have had a mixed  run of form recently, were at home to second placed Kirkoswald and Kirkoswald won this with a single goal to stay second.
Two in form teams, Penrith Reserves and Shap, each earned a point with a 2-2 draw at Frenchfield as Shap pulled back a two goal deficit with goals from Ben Palmer and substitute George Cresswell and moved further clear of relegation. Sedbergh Wanderers, deep in relegation worries, had the result of the day, winning all three points with a 2-1 win over Endmoor KGR thanks to goals from Liam Mason and Ben Ferguson. Finally, Wetheriggs United had a shocker of a day, losing 1-6 to Windermere SC with Rigg's only goal from Lewis Windle. Windermere are fifth after this result.
in Division Two there were four mid week fixtures and three of the top four were in action, with Division leaders Carleton Banks, who were going to have a difficult couple of games after five red cards in their last two cup matches, up against Appleby Reserves who put four past second placed Dent last weekend.
But Carleton Banks steadied the ship and won this with a 1-0 scoreline to stay top with four games in hand over Dent. Dent had what looked like a more difficult match against Kendal Utd Reserves, even with the home advantage, but won, scoring twice from David Burton and Joe Gardner, with Dale Atkinson replying for Kendal. 2-1 to Dent.  Fourth placed Castletown Utd had their eyes on third place and were up against AFC Carlisle, who are in eleventh place and have had a trying season in Division Two after their promotion.
This ended 5-0 to Castletown with a dominant performance and goals from Ryan Gate (2), Macauley Forsyth, Jamie Street and an own goal. In the South Lakes clash, Windermere SC Reserves took on Staveley Utd and in a high scoring match the result went to Staveley with a 4-5 away win.
There were two Saturday fixtures in Division Two and Appleby Reserves had the home advantage over high flying Keswick Reserves who had dropped down to fourth midweek after Castletown's win.
The visitors had by far the best of the first forty five minutes, and were 0-5 up at half time thanks to a Dave Gaskell hat trick and goals from George Frampton and Dan Fletcher. After some half time substitutions by Keswick, Appleby proceeded to pull four goals back, three from Ross Parkin and one from Morgan Fothergill, to leave the final scoreline 4-5 and Keswick back into third spot.
Kendal Utd Reserves were back in action, this time at home to Braithwaite, and they won this one 3-2 with goals from David Crierie, Josh Porter and Brett Walker, leaving Braithwaite hovering above the relegation zone.
There were two Semi Finals in the Mason & Freeman Cup. The first saw Staveley United Football Club face up to Castletown United at the Ayland Recreation Ground in Staveley. Stavely felt they were unlucky to lose this game, but lose they did, despite going ahead and dominating for much of the match.
Normal time ended 1-1 with Castletown equalising from a late Jamie Street strike and Lamin Cham securing a 1-3 win after extra time with a penalty and a headed goal for 1-3. In the other Semi Final,  it was first against second in Division Two as Carleton Banks took on Dent and Dent won this by a single goal 0-1 to reach their second Cup final, having already secured a place in the prestigious Westmorland FA Junior Cup final against Keswick Reserves.
In Division Three there was one midweek fixture which saw Lunesdale Utd take on Kirkby Stephen, and Kirkby continued their climb back to the top of the table with a 1-7 away win with two goals from Andy Lockheart, two from Matt Branthwaite, two from Damon Mcnaughton and one for Dan Hallam. Bun Collinson scored LUFC's only goal.
On Saturday Endmoor KGR Reserves took on basement side Penrith Saints FC and won through 3-0 with goals from Jamie Sill, Callum Marshall and Chris Bell to give the Kendal lads at least something to cheer on the day.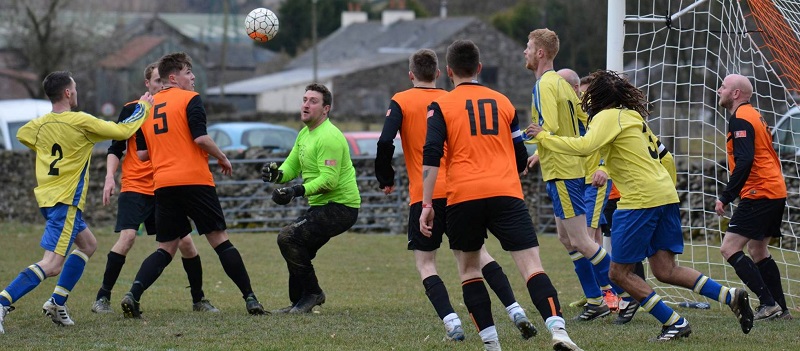 Kirkoswald Reserves, playing a father and son double (Mark-Lucas Winspear alongside dad Chris) went down 2-4 to Ibis Reserves. Rob Anderson scored twice for the home side but the visitors put in four to win 2-4  Lunesdale Utd were back in action at Maurice Park against Burneside and got back into the winning groove with a 4-2 scoreline with the LUFC goals from a Brandon Brett hat trick and one from Thomas Jackson, and a battling Man of the Match performance from the speedy Tyler James.
And finally Penrith Royal lost out 1-3 at home to Kirkby Stephen who are relentlessly closing in on Ibis Reserves, and the Division Three title. The win came on the back of a Damon McNaughton hat trick and an impressive display from sixteen year old Joe Bainbridge.
It was a quiet week in the Smurfit Kappa Cumberland County League but there were the two Benevolent Cup Semi Finals, the first an all Premier Division Clash, and the second between the top two in Division One.
Aspatria and Workington Athletic battled to a 1-1 draw with Aspatria on the score sheet through an own goal from Athletic, and Ash Kelly scoring for Workington, and the game went to penalties where Workington won 2-4 to reach the final. They will meet Bransty Rangers who had an impressive 2-1 win over Pirelli with both goals for Rangers from Jamie Thursby with Jay Hull replying for Pirelli.
There also one Whitehaven Cup Second Round match pitting Borough against Carlisle City Reserves, and the Division One side had this against their Premier Division rivals, with Borough winning 3-1 thanks to goals from Ash Dixon (2) and Alan Berry. Joe Boguzinski scored for Carlisle.
in In the Premier Division there was just one match, and Cleator Moor Celtic Reserves and Wigton Harriers battled it out for a 0-0 draw, leaving Wigton at the top of table and Clator Moor one point off the bottom but with games in hand over Netherhall and Cockermouth above them.