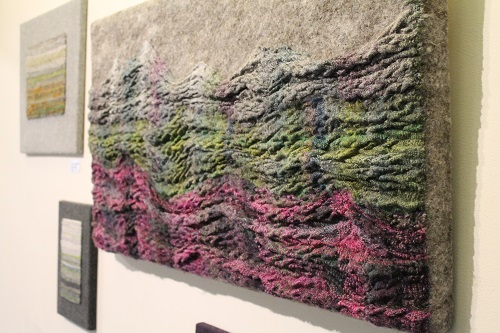 Creative work by members of The Wool Clip cooperative will be at the heart of an exhibition, From Fell to Fabulous, opening at Farfield Mill on Wednesday 17 October and then on display for the next five weeks until 25 November.
Ruth Strong, a Cumbrian sheep farmer as well as a member of The Wool Clip, has coordinated and contributed to the exhibition: "We've 12 members in the cooperative and each one of us works with wool in different ways," says Ruth. "Regular visitors to our Wool Clip shop at Caldbeck will be familiar with our designs and styles but occasionally we like to develop something more unusual, pushing our skills a bit further and creating pieces that sit somewhere between craft and art. Being able to exhibit these and reach a wider audience is always exciting."
The 25 or so pieces on display include a nuno felted dress with butterflies and other decoration felted into the vivid turquoise fabric (Linda Chapman), a knitted blanket that celebrates each of the British Coloured Sheep breeds (Alice Underwood) and a tufted Herdwick and Swaledale rug hanging that uses the natural colours of the wool to give an image of Blencathra (Chris Crofts).
Also on display will be an evocative hanging made from Ruth's late mother, Betty's knitting projects (Ruth Strong), felted woollen chess and Snakes and Ladders sets (Ellie Langley) and a handwoven shawl made from 100% wool which gradually transforms into a Herdwick Hog fleece (Jan Beadle).
"Farfield Mill, with all its wool heritage and current weaving expertise, is an ideal venue and we hope that visitors will enjoy seeing our work," says Ruth. "There was an opportunity to see From Fell to Fabulous at Upfront near Penrith earlier in the year and we then displayed pieces at Woolfest in Cockermouth in June but this is the first time that it'll be on display in the south of the county. We're hoping that, by showing off what's possible and celebrating British wool, we can inspire others to enjoy it and use it too."
"We are thrilled to be hosting The Wool Clip's From Fell to Fabulous at Farfield Mill," says Jo Mowbray, Manager of the Mill. "The exhibition celebrates local artists and demonstrates the very best of what can be created from wool. What could be more appropriate than exhibiting in a Victorian Woollen Mill!"
From Fell to Fabulous opens in the Howgill Gallery at Farfield Mill on Wednesday 17 October and it runs until Sunday 25 November. It will be open every day from 10:30am to 4:00pm.
The Wool Clip shop in Priest's Mill at Caldbeck is open every day, 11:00am to 4:00pm. Further information, directions and details can be found at www.woolclip.com.