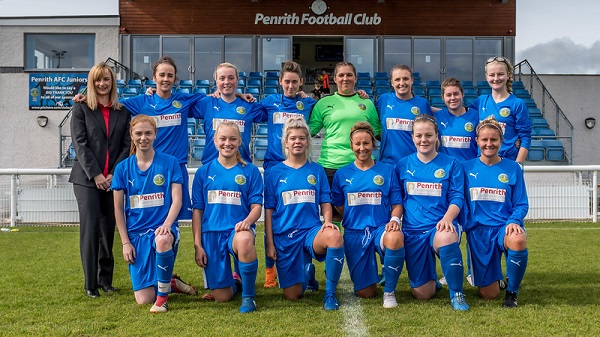 The harsh realities of North West Premier football were evident as high flying Tranmere proved too powerful for Penrith AFC Ladies.
Tranmere dominated possession from the start however Penrith maintained good shape and frustrated the Merseysiders. Tranmere did eventually take the lead in the 24th min from a dangerous corner.
Penrith, to their credit, responded and pressed. This lead to a superbly finished equaliser from Lily Gaulton as her snap shot found the corner of the net.
Tranmere regained the lead, again from a set piece. This time a free kick was curled over the wall and into the corner of the net.
HT 1-2
Penrith started the 2nd half well and pressed Tranmere into their own half for the opening 5 mins however the Marseysiders responded with devastating period of play. 3 goals in 10 mins dented Penriths resilience and confidence. Again set pieces continued to be Penrith's Achilles heel as Tranmere scored further goals from their well constructed corner routines.
In the end it finished as a heavy 1-8 defeat and Penrith have much work to do on the training ground.
Manager Simon Savage said "Tranmere are a very good team. On the day Penrith didn't actually play that badly in open play however Tranmere were ruthless from their set pieces scoring 4 goals from corners, not to mention a direct free kick and a penalty. They really did show their quality in these areas".
Penrith must now try to quickly regroup as they face a difficult trip to FC United in the quarter final of the League Cup.
Penrith: Lawson, Alderson, Johnston. Han Fawkes, McCormick, Campbell(Buchanan), Gaulton, Coulthard(Smith), Robinson, Hopton, Ullyart(Nutter).