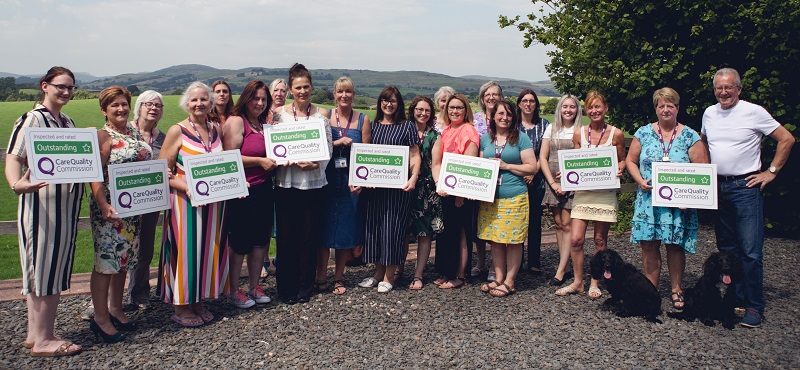 The Care Quality Commission has rated the care being provided by Home Instead, South Lakes to be Outstanding after an inspection in April 2019.
The service is operated by Home Instead Senior Care and is part of the Home Instead Group and is a domiciliary care service providing personal care and companionship to people in their own homes. At the time of the inspection 15 people were being supported by the service.
It was rated Good for being safe, well-led and effective, Outstanding for being responsive and caring, hence its overall rating of Outstanding.
A full report of the inspection has been published on the CQC website:  https://www.cqc.org.uk/location/1-5033419500/reports
Some of the features from the inspection included:
Inspectors saw, and people confirmed that staff treated them with kindness, compassion and respect and made sure their dignity was maintained. People spoke highly of the care and support they received from regular staff who knew them well
The leadership of the service promoted a positive, open culture. People, family members and staff all described the provider and manager as supportive and approachable. People and their relatives were happy with how the service was managed and several said they would happily recommend it.
It was also noted that 'caregivers displayed enthusiasm about empowering and supporting clients to find ways for them to achieve their personal goals, no matter how small these may seem to others. For example, going on shopping trips, having lunch out, going to their own hairdresser and rediscovering skills they used to enjoy but no longer feel able to do.' In just one example of this 'a person with dementia was supported by caregivers to make Christmas cakes and visit friends to deliver them, as they had always done.'
Home Instead Senior Care's focus on person-centred care shone through the report. A member of staff noted, "This is the first company I have worked for that says if people want to sit and chat then just do it."
"I am absolutely delighted with the rating," said Judy Clay who, along with her husband Will, owns Home Instead Senior Care, "and the stories and comments captured in the report make it all the more special. To have received such overwhelmingly positive feedback on our first ever CQC inspection is very encouraging.
"The inspectors acknowledged our close links with other local support organisations helping older people in the wider community. One of the initiatives we have organised alongside Cumbria police is our free fraud and scam awareness workshops which we hold across South Lakes.
"Will and I are proud of our team and the work that they do every day to improve people's lives. One client described them in the report as 'kindness itself' and we love that; we couldn't agree more!"
Helena Dennett, Head of Adult Social Care Inspection, said: "This service was really making a difference to people's lives and was demonstrating excellent person-centred care. We heard of people who worked extra time to be with people who would be alone on Christmas Day to help make the day a special one for them and improve their sense of well-being – evidence of the support and commitment to a truly caring ethos.
"When we looked at care plans we could see they had been carefully developed with people and families and were written in a way that reflected individual personalities, life stories, important people, events and memories. People confirmed their plans were agreed with them, felt in control of their care and could make changes to it as they wanted at any time.
"Carers actively promoted people's independence to the extent that people had regained skills they thought they had lost. People told us support offered was set at their own pace and visits and activities were never rushed.
"This is a first-class service and I a congratulate everyone involved."
Home Instead Senior Care provides tailored support, typically comprising companionship, meal preparation, light housekeeping, personal care, medication reminders, shopping and errands for older people.
For more information on the services provided or to find out about joining their outstanding team, please call Home Instead Senior Care South Lakes, on 01539 267220 or visit https://www.homeinstead.co.uk/southlakes