A hidden gem viewpoint has been made more accessible after work by South Lakeland District Council (SLDC) and partners.
SLDC worked with Windermere and Bowness Civic Society to improve access to Biskey Howe – a rugged outcrop looking over Bowness and Windermere.
This beautiful and tucked away corner gives fantastic views over the lake but is only minutes away from town, being accessed by paths from Helm Road and Biskey Howe (Road).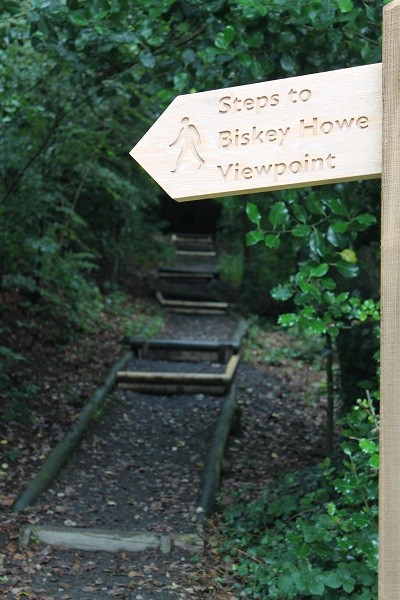 The civic society received £2,271 from SLDC's Locally Important Projects (LIPs) scheme to fund the work, as well as £1,179 from the Cumbria County Council Community grant and £1,355 Local Authorities Park Improvement Funding.
In recent years some of the steps had started to deteriorate, with surface washing out creating a steep climb. It also used to get muddy and slippery at the top of the viewpoint in wet weather, so new paths were created to resolve this.
Tree management works over the last two years have also restored the spectacular view and opened out the dense woodland areas. The total cost of tree works since 2017 was £10,870, which included rhododendron clearance, coppicing of sycamores which also opened up views, felling diseased and dangerous trees and cutting back woody vegetation near the main footpath and disabled access entrances.
Twenty seven steps were widened and improved, six new steps built. A new path was built which was 10m in length and an existing 20m long path was infilled to prevent surface washout.
As well as improving paths and steps, two new fingerposts were installed to improve signage to the viewpoint and surrounding points of interest.
Support was also received from the "Friends of the 597", a local bus service in Windermere and Bowness. Users of the bus can now enjoy better access to Biskey Howe, as the bus stops right in front of the disabled access path.
Councillor Eric Morrell, Portfolio Holder for Customer and Commercial Services and People, said: "Biskey Howe is one of the few places you can walk from an urban area and within minutes feel part of the fells and countryside, with breathtaking views of Windermere.
"It has taken a lot of hard work from volunteers from Windermere and Bowness Civic Society and SLDC officers, but I am delighted with the results. Everybody involved can be justifiably proud of their achievements."
Diane Fisher, speaking on behalf of Windermere and Bowness Civic Society, welcomed the site returning to its former glory and said: "Initial work in 2017 involved clearing trees and shrubs which were obscuring the fantastic view of the lake and hills beyond.  Whilst this opened up the area around the viewpoint and revealed the paths leading to the top from the adjoining roads, it also revealed that some of the paths and steps needed repair.
"Volunteers from the Windermere and Bowness Civic Society, working in partnership with staff from SLDC's Parks and Open Spaces Team, have now carried out improvements to the steps leading up and the uneven and muddy ground around the top.  In addition, new signage has been erected and spring bulbs planted.
"The Lake District National Park Authority and Cumbria County Council have also lent their advice and support to get the project off the ground. All this has been made possible with funding secured by the Civic Society from SLDC's Locally Important Projects fund, a Cumbria County Council Community Grant, and additional contributions from a Ministry of Housing, Communities and Local Government fund."