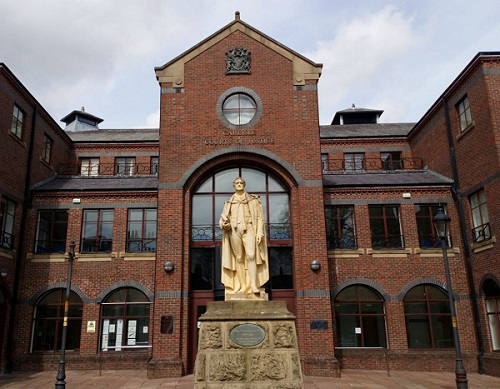 A MAN has admitted being involved in violent city centre scenes which sent elderly people running for cover after a Carlisle United friendly fixture.
Rival fans clashed on Botchergate in front of stunned members of the public at around 9-50pm on July 9 last year after United had hosted Scottish side Hibernian in a pre-season warm-up match.
More than 1,000 fans of the Edinburgh-based club had just attended the game at nearby Brunton Park which the visitors won 4-3.
City magistrates were shown graphic CCTV footage of a group of around 30 "Carlisle" yobs exiting Mary Street and spilling on to the main city road, causing traffic driving along Botchergate to take evasive action. The gang was "led out" by 26-year-old Daniel McRonald, the court heard, who was "waving his arms around to entice a large group of Hibernian fans to engage in disorder and violence".
With McRonald "at the front, shouting", the Carlisle group headed towards the Griffin pub base of the Hibernian fans, who then responded by chasing them back down Botchergate. "This caused several members of the public, from young to elderly, to run or take cover in doorways," said prosecutor Diane Jackson, who added: "Thankfully there don't appear to have been any injuries caused." Police swiftly arrived on foot and in patrol vehicles.
When McRonald, who gave his address as Carlton Street, Hartlepool, appeared in court, he admitted a charge of affray.
His case was committed to Carlisle Crown Court, where he is due to be sentenced on a future date. He was granted unconditional bail in the meantime.