This is the heart-breaking moment a retired police dog says goodbye to his K9 colleague – after he passed away at home this week.
On Monday (July 13) PC Dale James and his retired police dog Bailey said a tearful goodbye to their best friend, Ozzy.
The 14-year-old Dutch Herder had served Northumbria Police for eight years before he hung up his lead and retired in 2014.
Labrador Bailey continued to work as a specialist search dog for two years before he retired and Dale moved out of the Dog Section.
The 10-year-old joined Ozzy at Dale's family home in Northumberland where the best friends enjoyed a well-earned retirement.
But on Monday, Ozzy sadly passed away in his owner's arms and was taken home to be buried under an apple tree at the bottom of the garden.
Dale has today (Sunday) released a picture showing the moment Bailey lay next to his brother to say one last goodbye before he was laid to rest.
"When we got Ozzy as a puppy we had another dog called Stella and she quickly became a bit of a mother figure for him," said Dale.
"When she died we buried her under the apple tree at the bottom of the garden and Ozzy came and lay next to her to say his last goodbye which was amazing to see.
"Then when Ozzy died this week I brought him home and lay him on the garden under a blanket so I could bury him next to Stella.
"I began to dig down there and then Bailey came and lay next to him, exactly like Ozzy had done with Stella.
"It was really sad and it has been heart-breaking for the family but it really is amazing how dogs just know these things."
He added: "I got Ozzy when he was just a baby and he was with me every day for the next 14 years, he basically never left my side.
"I trained him, got him licensed as a police dog and then he saved my backside on more than one occasion when he was working with me and Bailey.
"Without him getting out there and supporting me there would have been a number of times where things could have ended a lot differently.
"It's very sad and we will miss him a lot but he was a great friend to me. He had a fantastic career and a great end to his life so I couldn't ask for anything more."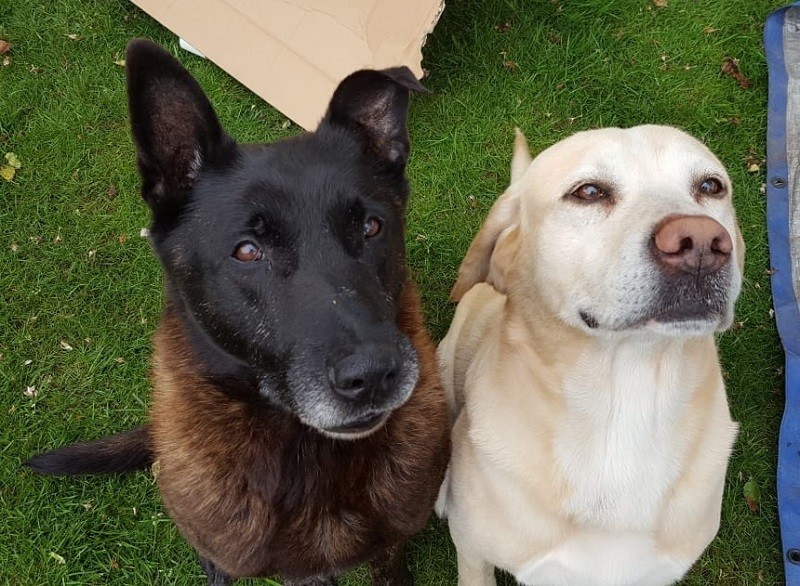 Dale immediately struck up a bond with the Dutch Herder after taking him on as a seven-week-old puppy in 2006.
After a year Ozzy had become a fully licensed K9 and was involved in a string of good jobs through his eight year career in the Force.
That included tracking a burglar for more than half an hour in North Tyneside, bringing to end an armed siege in Wallsend and locating a car thief in dense woodland in Ashington.
In 2014 Ozzy retired and became a family pet alongside Dale, his wife Karin and their son Nathan. Bailey then joined best mate Ozzy when Dale moved out of the Dog Section in 2016.
To find out more about the work of the Northumbria Police Dog Section, follow them on Twitter at @npdogsection.