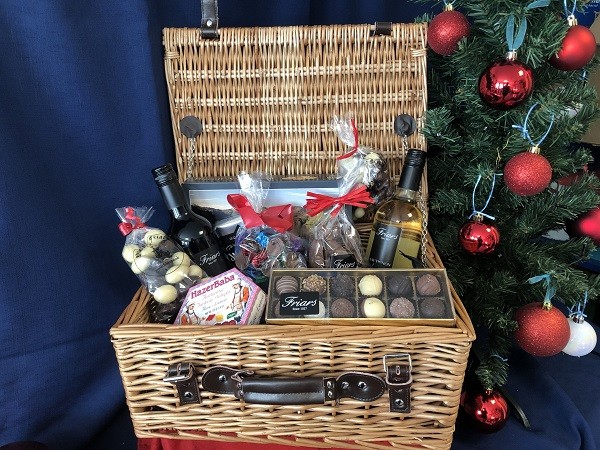 Hospice at Home Carlisle and North Lakeland is delighted to announce that the Gifts for Giving Online Auction will open at 3pm on Sunday 15th November 2020.
The Charity decided to launch its second online fundraising auction of the year following the great success of the recent Craft in Covid Online Auction, and asked the local community to donate lots suitable for giving as Christmas gifts. To date, over 150 items have been pledged, including Vouchers, Wall Art, Luxury Hampers, Home Accessories, Festive Items and more.
Cath Coates, Fundraiser for Hospice at Home, said "Once again, we have been amazed by the response to our request for donations of auction prizes. The variety within the catalogue is fantastic and we hope there is something there for everyone, with prices starting from £5. I would like to take this opportunity to thank all businesses, organisations and individuals who have given an item for the auction. We can't wait to share the live catalogue with you on 15th November!"
Many supporters commented that they were keen to donate an item to the auction to help raise funds and support the Charity at this difficult time.
Charles Egerton, Chairman of Carlisle and Cumbria Artists (CACA) has donated a painting entitled 'Ullswater Under Snow' to the auction. Charles commented "CACA has supported Hospice at Home for a number of years, by sharing the profits from our annual exhibition. Due to Covid 19, we have had to abandon our exhibition this year, so this is a way of continuing to support Hospice at Home."
Roger Smith of Thomas Graham and Sons, one of the Charity's Business Partners, has gifted £100 of Thomas Graham vouchers. Roger added "Hospice at Home is an awesome local charity that touches most of our lives at some stage, I'm not sure where we would be without it."
Fiona Stobbart of Walton and Lees Hill School recently delivered a hamper full of food treats to the Charity. Fiona explained "Our school started its fundraising journey with Hospice at Home last year. We wanted to continue our support through the very difficult times we find ourselves in at the moment. We have such a supportive team of parents and staff at school and thought we could pool our generosity to put a hamper together. We received a stream of items for the hamper and have also put another hamper together for our school Christmas raffle."
Sue Catterson generously gifted four 'Flo-Art' canvas paintings for the catalogue. Sue commented she had contributed to the event "Because the work done by you all is so important and valuable to our local community. It is imperative that we all support Hospice at Home in whatever way we can, to help to maintain the fantastic work that is done by everyone involved."
The auction will be open from 15th November – 30th November and the catalogue can be viewed by visiting www.givergy.uk/giftsforgiving.
Cath added "We hope the community will take a look at this festive catalogue, and make bids on items of interest. Every donation will make a huge difference to the patients and families cared for by Hospice at Home at this challenging time. Thank you in anticipation of your support."