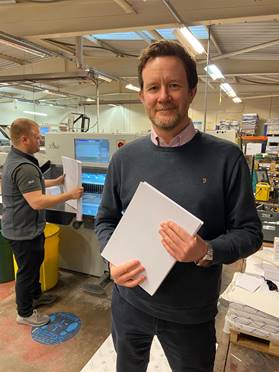 A Cumbrian business is to offer self-sanitising paper with antiviral protection.
H&H Reeds is launching the product as part of a new partnership with specialist papermaker James Cropper, who are to supply them with their unique PaperGard™ paper with antiviral protection.
Together with a heritage of more than 300 years, this partnership creates synergies between James Cropper's paper manufacturing and H&H Reeds' printing operation.
Suitable for a wide range of uses, this porcelain white, uncoated paper with PaperGard protection is available in 100, 250 and 350 gms, with H&H Reeds now able to offer customers an ability to print and brand directly on to the paper.
The technology opens up a world of possibilities as restaurants, hotels, cafes, and pubs have their eyes on reopening, providing a safe alternative and more efficient solution to wiping down menus for example.
"This collaboration will be of enormous benefit to so many businesses across our region, helping to provide much-needed reassurance to customers," said Gill Haigh, managing director of Cumbria Tourism.
"Obviously, it has been an incredibly difficult year for hospitality and tourism. As such, innovative partnerships such as this are most welcomed, which can really help enable these industries to pick themselves back up again and begin to thrive once more."
Jonathan Nagle, business development manager for H&H Reeds, commented on the new business relationship: "For H&H Reeds, having a direct supply of PaperGard paper from James Cropper, is a unique opportunity to provide local businesses with branded solutions that have in-built antiviral and antibacterial protection.
"Given the context of COVID-19, we are thrilled to be working with another Cumbrian business to support the local economy. This partnership creates synergies between two leading local companies and speaks to the potential for collaborations.
"For us, this exclusive arrangement means that we can directly provide local businesses with products at a non-prohibitive price point.
"For industries like hospitality and tourism, this means they can make their working environments more Covid secure without extortionate investment, while reducing microbial loads on surfaces that are commonly touched by their customers."
"To support customers further we will provide digital branding to certify their use of James Cropper's PaperGard protected paper, and stickers for point of sale. This we believe will help them reassure their customers and regain confidence