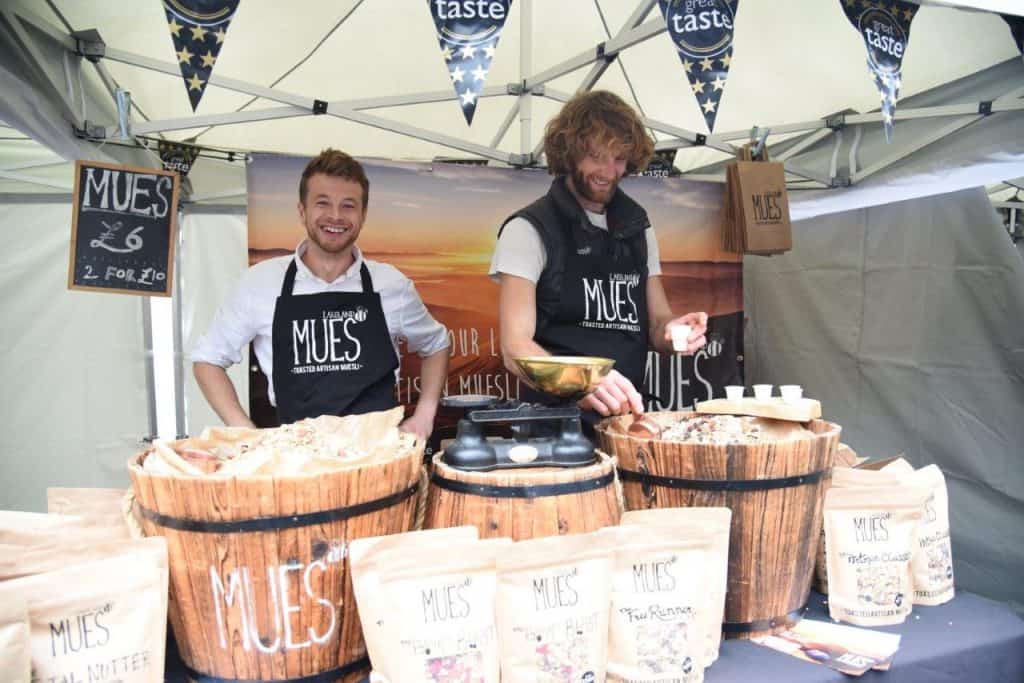 Sausage rolls selling at a rate of two a minute, visitors coming from across the UK, lots of smiling faces on the streets, and a big boost for the county's businesses – the first day of the Taste Cumbria festival in Cockermouth looked like a fabulous success. 
Tourists from as far apart as Hampshire, Kent, Swansea and Glasgow joined thousands of Cumbrians on the streets of the town today to experience the event's producers' market, music stage, hot food court, and festival bar. 
New for 2021 were two sell-out exclusive events at the Tithe Tap – a cocktail masterclass on the Friday and a spirit tasting night tonight with The Lakes Distillery.
There was also a comedy night on the Friday at Cockermouth Cricket Club with live music in the Festival Marquee on Memorial Gardens Car Park. 
Elsewhere in town, there was street theatre from The Fairly Famous Family while in The Vicky, on High Sand Lane, there were children's activities with the lively entertainers from Rainbow Jelly Productions.
Ellie Jones, event manager at Allerdale Borough Council, said: "It's been amazing to see Taste Cumbria back on the streets of Cockermouth, where this festival began back in 2010. 
"To hear about traders selling out in the producers' market in the middle of Saturday afternoon and one of Cockermouth's butchers selling more than 50 sausage rolls in less than half an hour was brilliant.
"Then to welcome so much local talent and see the dancing in the Tractor Shed Brewery's bar queue as people saw the live music in our Festival Marquee, it felt like this was an event so many people had been waiting for. 
"Taste Cumbria is back and it's such a celebration of everything Allerdale and this county has to offer." 
Music acts today included Ste Murphy, the Mustangz and Mojo Rising.
Paul Hawkins, of Kick Ass Cheese, said his return to Taste Cumbria has been a roaring success. He said: "It's been a great day and it was busy all day. It's good to be back."
His words were echoed by several traders who said they had seen customers all day.
Taste Cumbria is organised by Allerdale Borough Council and sponsored by Cockermouth Town Council, The Coffee Kitchen Bakery and Cartmell Shepherd Solicitors. It is supported by Tractor Shed Brewing, Tithe Tap, The Trout Hotel, Cockermouth Cricket Club and Bottled in Cumbria. 
The second day of the event will begin at 10am tomorrow.
The Taste Cumbria fun continues on Saturday, 23 October with a one-day Taste of Wigton event in another of Allerdale's pretty market towns, followed by Taste Cumbria Christmas in Cockermouth on Saturday 11 and Sunday 12 December 2021.