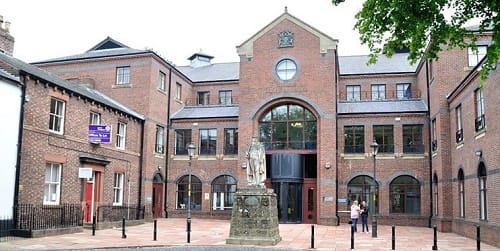 [T]HE first of four schoolboys accused of raping a girl in a Workington field has given evidence to a jury.
Four boys, all teenagers from West Cumbria, are on trial at Carlisle Crown Court. They have each denied two rape charges, and further deny an allegation of an additional sexual assault.
It is alleged they carried out a "brutal sexual attack" on the 15-year-old girl in a dark, muddy field on the evening of January 3 last year.
Today (MON), on day six of the trial, the first boy told the jury she had approached he and his friends in Workington, and "asked us to go with her". She initiated sexual contact with two of them in an alleyway, the boy said, before they all walked to a "muddy bank".
"She said to me 'does anyone want sex?', the boy told jurors. He and the girl then did have sex which ended when he "got bored". He said she then "pulled her pants up and walked towards" another boy with whom she also engaged in sexual activity.
The first boy's barrister, Judith McCullough, asked: "At the time that you were having sexual activity with (the girl), did you do anything against her will?"
"No," replied the boy, wearing a white shirt and black tie in the witness box.
"Did (the girl) at any stage say or do anything which made you think she didn't want to be doing what she was doing?" Ms McCullough asked.
The boy responded: "No."
The trial continues.