[T]wo wards at University Hospitals of Morecambe Bay NHS Foundation Trust (UHMBT) have had their dedication to patient safety acknowledged after becoming the Trust's first ever Exemplar Status wards.
The Morecambe Bay Cardiac Centre at Westmorland General Hospital (WGH) and the Radiology Day Care Unit at the Royal Lancaster Infirmary (RLI) have been awarded Exemplar Status as part of the patient safety initiative, the Quality Assurance Accreditation Scheme (QAAS).
QAAS is designed to support how all staff deliver care – identifying what works well and where further improvements are required. It scores wards against the best practise standards set out in the Chief Inspector of Hospital's five key lines of enquiry, the Care Quality Commission's core essential standards and the 6Cs Compassion in Practise of Values.
To achieve Exemplar Status, the ward or department will have visits from an internal team, and have to achieve three consecutive 'green' scores. They are then invited to present a case study of why they should be awarded the status at a Quality Improvement Panel.
Sally Young, Quality Assurance Matron, UHMBT said: "I am proud to have introduced, led and supported the QAAS scheme since its launch in September 2015. The staff in these departments have been instrumental in the development of the process and tools we use to demonstrate safe and effective patient centre care across UHMBT.
"The Morecambe Bay Cardiac Centre and the Radiology Day Care Unit deserve to be the first areas to achieve this status as the whole multi-disciplinary teams strive to deliver patient centred care every day in a safe welcoming environment."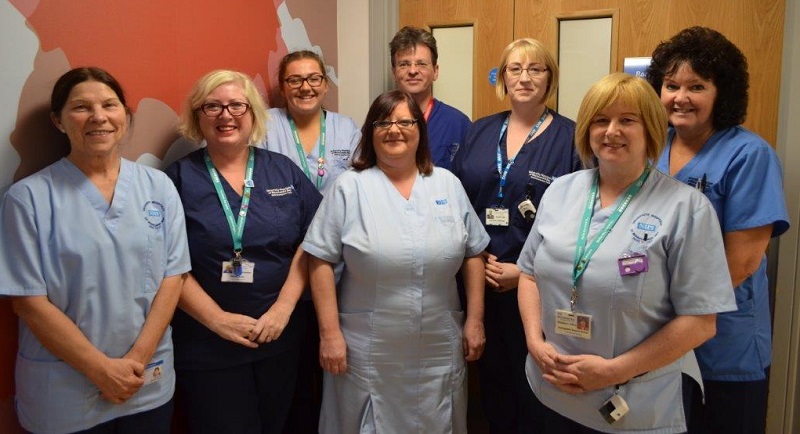 Caroline Kelly, Lead Nurse for Radiology, RLI, UHMBT, said: "This award is a huge achievement and I am very proud of all the nurses in my team who bring dedication and inspiration to the area.
"All our visits to the department were extremely positive but the areas that the QAAS
team picked out as good practise were –
Radiology invested in its nursing staffing to provide a service improvement which also allows a safer, robust service.
The team works together to provide better care, a positive experience and place the patient at the centre of our work.
The team engage with others and work in partnership to achieve the best appointment times in line with waiting times and NHS standards.
Staff are supported with development and clinical opportunities.
Staff have a positive approach towards each other and a caring and dedicated approach towards our patients.
A lot of work has been invested in the area to improve the patient experience such as education boards, distraction lights, eg children's play area, ward welcome board for patients.
Excellent feedback and appreciation from our patients is evident from questionnaires."
There are currently 50 other wards and departments taking part in the scheme and seven of these are going through the process to become Exemplar Status areas in the next two months.