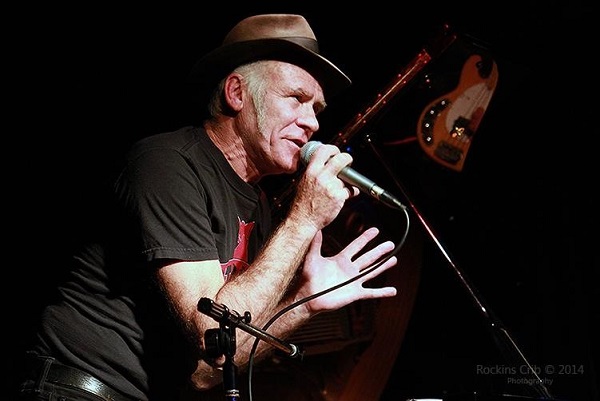 [D]elivering bold interpretations of music from one of the most influential artists of the age, composer and musical director Stewart D'Arrietta takes his acclaimed celebration of Leonard Cohen on a tour of UK theatres in summer 2018.
Returning to the UK by popular demand, following acclaimed Edinburgh Fringe seasons in 2016 and 2017, and a sold-out run at the Sydney Opera House, My Leonard Cohen visits Rosehill Theatre Whitehaven, as part of a tour of the UK this June. Driven by D'Arrietta's raw vocal style, these are arresting and imaginative interpretations of the great singer-songwriter's most powerful works, performed by world-class musicians. Fans of D'Arrietta won't want to miss the rare opportunity to catch the multi award winning Australian performer, composer and musical director in the UK.
The classic Tower of Song, sensual I'm Your Man, and anthemic Hallelujah are just a few of the 18 Cohen favourites given the D'Arrietta treatment, alongside the heartrending In My Secret Life, kaleidoscopic Closing Time and menacing The Future. Poetic anecdotes, punctuated with D'Arrietta's trademark laconic humour, offer a narrative frame by which the audience can contemplate the life of one of the world's most enigmatic songwriters. This is Cohen's music as you've never heard it before.
Over the last two decades, D'Arrietta has enjoyed rave reviews and performed internationally, including at Montreal Jazz Festival, The Riverside Theatre London, EX Theatre Toyko and The Soho Playhouse New York. Credits include Lennon: Through a Glass Onion, Belly of a Drunken Piano, Feeling Randy, Satango and Tuxedo and the Little Black Dress. The World Premiere of his new show Belly of a Drunken Piano (featuring music by Tom Waits, Ian Dury, Leonard Cohen and Randy Newman, among others) at the Adelaide Fringe Festival earlier this year received several reviews, all of which awarded five stars.
"It is testament to D'Arrietta's devotion to keeping Cohen's music relevant that he continues to play to packed houses. Cohen himself would surely have paid to see this one." Daily Business *****
"Magic" The Adelaide Show *****
"[D'Arrietta] and his extraordinary band bring Cohen's songs to life in a way that surpasses mere imitation, altering arrangements and infusing them with a new energy that drives the emotional narrative of the show." The Adelaide Advertiser *****
"Very, very fun… D'Arrietta sounds like someone has soaked his lungs in whisky and set them alight." Broadway Baby ****
"A dynamic singer with a gravelly voice – imagine Tom Waits with overtones of Joe Cocker – and a wicked line in jokes and stories, D'Arrietta is the full package both as musician and entertainer." The Daily Telegraph (Australia)
"Certainly worth your time … particularly for the opportunity to experience the remarkable Stewart D'Arrietta in live performance." Australian Arts Review
"A fine performer in his own right and a terrifically skilled band… Expect paced-up songs, expect tango and Texas, hard rock and enough overlap with Cohen's own style to satisfy, surprise and delight." Fringe Review "HIGHLY RECOMMENDED"
"Real musicians with a strong set, beautiful singing range, slick and sartorially turned-out. [Stewart D'Arrietta] has a phenomenal presence, no doubt about it." Deadline News
Tickets are now on sale.
Saturday 9 June, 7.30pm – Rosehill Theatre, Whitehaven (£23)
Book Online www.rosehilltheatre.co.uk   Box Office 01946 692422
Rosehill, Moresby, Whitehaven, Cumbria CA28 6SE