A unique collection of personal objects, including a set of Stone Age tools and William Wordsworth's ice skates, goes on display at Wordsworth House and Garden in Cockermouth this weekend, and to mark the occasion, locals are being invited to visit free of charge.
In a major new exhibition, entitled This Land is Our Land, multiple – often contradictory – voices explore our fragile and ever-changing relationship with the landscape that surrounds us. Contributors include writers Robert Macfarlane, Sarah Hall, Hunter Davies and George Monbiot, artist Julian Cooper, local farmers and others living and working in the Lakes.
To celebrate its opening at poet William's birthplace, the National Trust is inviting Cumbrian residents for a free visit on Saturday 9 and Sunday 10 March.
Zoe Gilbert, Wordsworth House's visitor experience manager, said: "This Land is Our Land is about nature's power to shape us and the impact we, in turn, have on the environment. These are issues that affect us all.
"In recent years, Lake District has become a forum where tensions about land use and expectations of nature have been played out. When it was designated as a World Heritage Site in 2017, questions about its care and purpose become even more sharply focused.
"The exhibition combines the written word, stunning images, a series of specially commissioned short films and a range of extraordinary objects chosen by the participants to exemplify their relationship with this very special place.
"We are especially thrilled to have William's ice skates on loan from The Wordsworth Trust and some extremely emotive natural history exhibits from Tullie House Museum and Art Gallery."
Visitors will also be able to see a set of 5,000-year-old stone chisels discovered last year at Copt Howe in Langdale, and a shadow box commemorating the destruction of Mardale village to make way for Haweswater reservoir, created by the award-winning novelist Sarah Hall.
There are several dramatic landscapes by Julian Cooper, a member of the Heaton Cooper family, whose work features in collections around the world and can be seen in London's Art Space Gallery.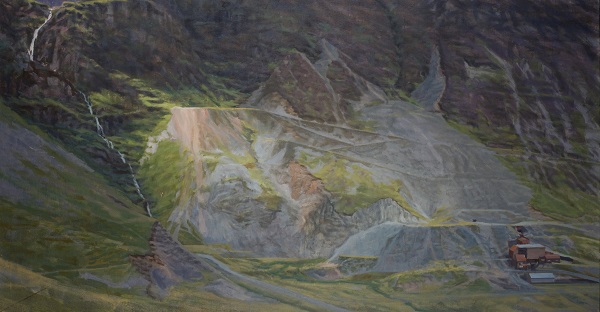 This Land is Our Land forms part of a year-long series of events on the theme 'People's Landscapes' being held around the UK by the National Trust.
Wordsworth House is hosting a series of linked talks, including an evening with farmer and author James Rebanks. For more information about these and to book tickets, see nationaltrust.org.uk/wordsworth-house.
This Land is Our Land is open daily, except Friday, 11am to 4pm, from 9 March to 8 September, and admission is free with entry to the house and garden.