Penrith AFC Development 0-7 Penrith AFC Ladies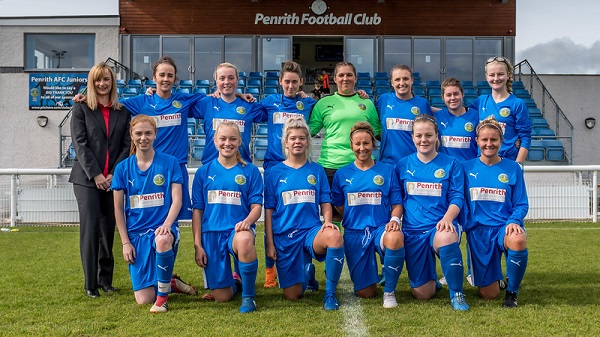 With the clubs Ladies team facing the Development team in the Semi Final, Penrith AFC knew that they were ensured one team in the final whatever the result.
On the day the more experienced Ladies squad prevailed however the quality of the match really did showcase the strength and depth of talent at the club.
In perfect playing conditions at the Frenchfields Park stadium the two teams really did serve up a spectacle of high quality football. The Ladies were quickly into their stride and were playing flowing passing football and switching the play from flank to flank. The young Development team remained compact and disciplined in their approach and were proving difficult to breakdown. On the break the pace of the Development teams strikers Jodie English and Jazz Campbell – Flynn was stretching the Ladies team defence.
The opening 30 minutes continued in the same vane and although a stalemate it really was very entertaining football.
On 31 mins the Ladies eventually broke the deadlock when Hannah Fawkes poked the ball home from a corner.
Corners proved to be the Achilles Heel of the Development team as the Ladies added 2 further quick fire goals from corners as Heather Fawkes headed home on each occasion.
Hannah Coulthard fired home just before the break to make the halftime score 0-4.
Into the 2nd half the Ladies extended their lead with goals from Charlotte Smith, Hannah Coulthard and Becca Buchanan.
Massive credit goes to the Development team as they stuck to their task and showed superb character in the 2nd half playing against the Ladies team that plays 3 leagues above them.
FT 0-7
Penrith AFC Ladies can now look forward to the County Cup final to be played at Carlislre United's Brunton Park on Friday 10th May. They will face the winners of the Carlisle United Ladies v Workington Reds semi final.
This Sunday Penrith AFC Ladies return to league action when they entertain Merseyrail Bootle from Liverpool.
Ladies :Lawson, Johnstion, Alderson, Han Fawkes, McCormick, Hea Fawkes, Nutter(Buchanan), Coulthard, Gaulton, C.Smith, Campbell
Development: Chambers (K.Jackson), D.Savage,Scott,( I.Savage), B, Jackson, Balmer, Falder, MacFadzean, English, Campbell –Flynn, Vietch (Mehmet), Frizzle (Greenway).