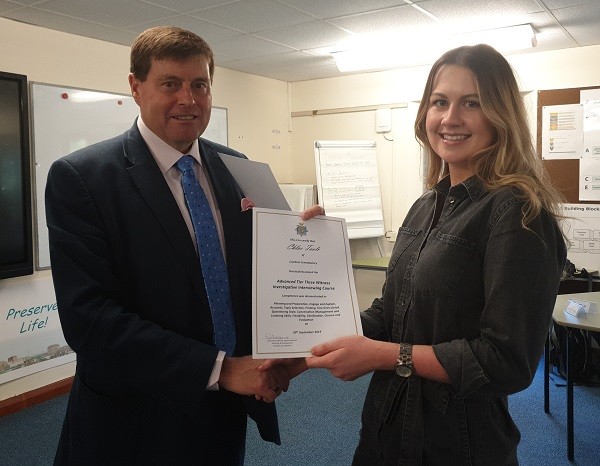 Police Officers within Cumbria Constabulary have now completed training around interviewing vulnerable adults and children who are victims or witnesses to crime.
'Achieve Best Evidence' sees officers attending a three week, assessed training course which includes speaking to vulnerable people and attend talks by guest speakers including psychologists.
The aim of the course is to enhance the interviewing skills within the police force to help gain the best information from victims who may have mental difficulties whilst keeping the member of the public feel safe when sharing information.
Cumbria Constabulary work in partnership with Beaconside Primary School and Edington Centre for adults with learning difficulties – this gives officers the opportunity to have genuine conversations with people of all levels of learning difficulties and to help the officers develop their interview skills in a safe and familiar environment.
Cumbria's Police and Crime Commissioner, Peter McCall, presented the qualified officers with their certificates at a ceremony on Friday 20 September.
Speaking on the event, Peter McCall, said: "I'm honoured to present the officers with their newly gained qualification certificates.
"Always putting victims first is one of the key priorities of the Commissioner's Police and Crime Plan, and that includes enhancing services for vulnerable victims and ensuring that we, and partner agencies, meet the standards of the national Code of Practice for Victims of Crime."
"It's so important that all victims feel safe and secure when speaking to the police – if we can put victims at ease the police will be able to get the most valuable information from them.
"It's great to see the Constabulary taking park in this training and I hope it serves them well."
Crime Trainer, Paul Scougal said: "These officers are the future of conducting Investigative Interviews with the most vulnerable people in our communities and I'm proud of the effort they have put in over the past three weeks to obtain this qualification. I look forward to seeing them progress and develop in the future.
"Safeguarding and protecting children and vulnerable adults whilst having the ability to bring offenders to justice is what this course is all about. All of these officers have demonstrated a drive and determination to do that. They are a credit to themselves and the Constabulary."