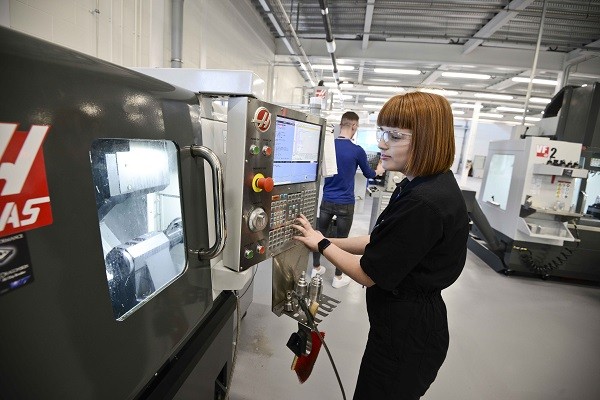 Staff at Furness College are celebrating after the quality of its degree engineering programmes was once again accredited by a world-leading professional society.
The college has been awarded academic accreditation by the Institute of Engineering and Technology (IET) – one of the few further education colleges in the country to receive this accolade.
A panel of expert assessors scrutinized the course content and quality of delivery offered to students on the BEng (Hons) Electrical and Electronic Engineering and the BEng (Hons) in Mechanical Engineering.
Both degrees are delivered at the Channelside campus and are awarded by Lancaster University.
Furness College's Head of Area for Technical and Build Engineering Kate Colebourn said the assessors spent two days on campus, based in the £4million Advanced Manufacturing and Technology Centre.
"The IET panel made a thorough assessment speaking to staff, employers and students and considering the course content, delivery, relevance to industry needs, assessment, staffing, and resources offered to students.
"We are delighted that they recognised our commitment to delivering the highest quality engineering education programmes and that our students will benefit from an award that is a recognised standard worldwide.
"This prestigious accreditation means our students can graduate from here confident they have the appropriate skills and knowledge for an engineering career and professional registration which, in turn, boosts their employability prospects."
Director of Curriculum Steve McAloone said: "When our students complete their BEng (Hons) degrees, they are well-placed to apply for professional registration as an Incorporated Engineer (IEng) as they have met many of the requirements through their degree course.
"In addition, the accreditation supports students who are aiming towards Chartered Engineer status, which is the highest level of competency, allowing engineers to work worldwide on the biggest projects, as it includes areas of that registration."
Jamie Halligan, of BAE Systems who is on the BEng (Hons) degree programme, said the course was essential for his career development.
"The engineering lecturers have a wealth of knowledge and are keen to pass on their practical/technical expertise.
"At present, my primary career goal is to become a chartered engineer and progress within my engineering role at BAE Systems. Furness College is helping me to get close to that because the BEng and BEng Honours degree is IET accredited.
"Alongside working at BAE Systems and gaining engineering experience, the BEng Honours degree allows me to meet key competencies and academic requirements for chartered engineer status, which is what I want to achieve."
Furness College offers a range of degrees in a range of professional/technical subjects which can be studied full or part-time.
It has recently been recognised for the high quality of teaching and learning with a silver award for higher education under the Teaching Excellence Framework. The college achieved the award for 'consistently exceeding' rigorous national quality requirements.