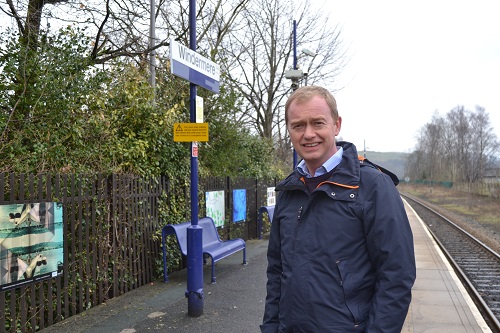 Local MP and Chair of the Cumbria Better Connected rail group, Tim Farron has welcomed plans drawn up by Network Rail to electrify the Furness Line as part of their environmental push to remove all diesel trains off the rail network by 2040.
The proposal would see every line in Cumbria electrified – apart from the Lakes Line which would host battery-powered trains instead.
Tim has written to Network Rail urging them to extend electrification to the Lakes Line and to amend the plans to include a passing loop at Burneside which could reduce car emissions by doubling rail capacity on the line.
Tim said: "It's really welcome and exciting news that Network Rail have drawn up this proposal to electrify lines across the country including locally on the Furness Line.
"This is a key piece of investment that I along with many other local rail campaigners have been calling for, for a very long time.
"However, it is disappointing – and simply doesn't make sense – that the plans for electrification do not extend to the Lakes Line which of course serves Britain's biggest visitor destination outside of London.
"I have written to Network Rail to strongly encourage them to readdress this so we can maximize the benefits to both our local economy and our environment."