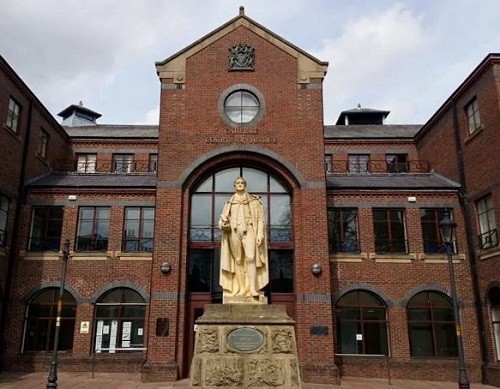 A robber who snatched an vulnerable pensioner's purse at a Carlisle city centre cashpoint has been jailed for 27 months.
The 69-year-old woman was queuing outside the English Street branch of Barclays Bank, at 3.05pm on November 16 when Kyle Robert Crawford suddenly appeared, cut in front and "forcefully" snatched the purse from her hand causing her arm to swing backwards.
"Such was the speed and the shock of it all that she had no chance to keep hold of it," Tim Evans, prosecuting, told Carlisle Crown Court this afternoon.
As 25-year-old Crawford fled, the woman yelled "stop him", prompting a public-spirited bystander to bravely give chase and others to also assist.
Crawford was detained and arrested after a pursuit.
He claimed to owe people money, had threatened and assaulted one of his pursuers and later told police: "Here, boss, tell that lady if you see her I'm sorry and I'll pleaded guilty to it."
For a number of days after the incident, the woman suffered shoulder pain which was managed with the help of a physio and painkillers, along with acupuncture.
An existing frozen shoulder condition was exacerbated, the court heard.
She later spoke of a vulnerability she had never before felt and being left feeling nervous and jumpy.
"I feel exposed and intimidated by others," said the woman in an impact statement.
"I don't think the man will ever understand the impact that he has had on me.
"The man who attacked me has made me nervous, distrusting and wary of other people.
"He took a part of my confidence away from me.
"However, the people who helped me that day were unbelievable and I will be forever grateful to them."
Crawford, of Warwick Square, Carlisle, admitted robbery when brought to court.
Jeff Smith, defending, told the sentencing hearing he was homeless after a relationship breakdown and "at the end of his tether" at the time of the crime.
Jailing Crawford, Recorder Ciaran Rankin remarked on his "terrible" criminal record.
"What's quite clear is that your actions have caused her considerable pain and discomfort," the judge said of the victim.
"The effects of what you have done to her are quite significant."