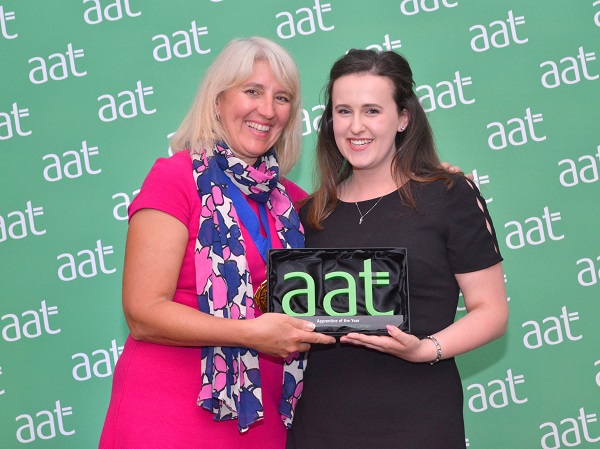 [C]arlisle College Accounting Apprentice, Rebecca Mooney has won the prestigious "Apprentice of the Year" award at this year's AAT Training Provider Awards beating off competition from around the world.
Rebecca was presented the award at the AAT (Association of Accounting Technicians) Training Provider Awards Ceremony, which celebrates the outstanding contributions of both AAT training providers and students.  The Awards Ceremony formed part of a Gala dinner during the 2018 AAT Training Provider Conference at the East Midlands Conference Centre where she was joined by her mother Lesley and Carlisle College Accounting Tutors, Wendy Carr and David Mandle.
The win reflects Rebecca's enthusiasm and fantastic work ethic demonstrated both in her studies at Carlisle College and in her Apprenticeship role as Accounting Assistant at Carlisle Refrigeration.
Carlisle College Accounting Tutor, Wendy Carr, said "Rebecca really participates in class, often leading in group tasks, and is not afraid to speak up or challenge anything that she doesn't quite understand in order to get a better understanding of the task in hand.  Her warm personality has shone through, she has helped some of her peers who were struggling with their studies by nurturing and encouraging them.  She also set up a social media group chat to enable her to help other students with revision and has shown constant patience and support to them, becoming a great role model.  Rebecca is a real worthy and deserving winner and I'm delighted in her achievement".
Rebecca's performance in College has also been mirrored in the workplace at Carlisle Refrigeration, where she has been able to apply her theoretical studies to her management accounting duties, demonstrating a strong understanding of valuation and risk issues.
Rebecca has also taken an interest in sustainability and shown initiative in organising a recycling scheme for the office.
However, Rebecca's success has not come easy.  In December 2015 Rebecca's family were hit by the devastating floods that swept across Carlisle with Storm Desmond.  Badly damaged by the flooding, Rebecca and her family had to move out of their home and live in temporary accommodation for almost 10 months.  As well as the upheaval associated with the move, the temporary house was much smaller in size which made studying difficult. During this time Rebecca put her skills to good use, helping her family with the insurance claims and dealing with the loss adjustors.
Rebecca has not let this adversity get in the way and she continues to flourish in both her studies and job role, with a clear aspiration to progress to the Professional level of AAT's qualification, studying either for her CIMA or ACCA qualifications to support her development at Carlisle Refrigeration.
Rebecca said "When my tutor, Wendy, told me that she wanted to nominate me for the award I felt so shocked; the reasons she gave were so nice and I felt astounded to have been put forward. It never crossed my mind that I would win.
"When the Apprentice of the Year category came up at the award ceremony, I could feel the nerves in my stomach. I had told my mum, who was sat next to me, that it won't be me, but that I was just so happy to be there. When my name was announced I went into shock. I was over the moon, it is such an amazing accolade and I still can't believe I have won.
"The surprise and surge of happiness that I felt when I won must have been evident in the massive smile on my face. I'm still smiling about it now!"
Martin Bainbridge, Company Accountant at Carlisle Refrigeration said "Everyone at Carlisle Refrigeration is very proud of Rebecca, as we are with all our apprentices.  We pride ourselves on advocating hands-on experience enhanced with educational courses in order to further our colleagues' careers for their benefit and the company's, we're delighted, but not surprised, that she has fulfilled the necessary criteria to win this accolade. Well done, Becca!"
AAT President Nicky Fisher says: "Our aim at AAT is to help people change their lives through their studies, and it was great to meet people like Rebecca who have done just that. Congratulations to her, she is a worthy winner."
Carlisle College offer an extensive range of Apprenticeship programmes, working with over 350 leading employers in the local area and helping over 300 students a year to secure apprenticeships in a variety of subject areas including construction, business and accounting.
Applications for Carlisle College are now open for September 2018 start. To find out more about the courses and Apprenticeships available, or to apply, visit www.carlisle.ac.uk or visit the next open evening on Thursday 28th June 2018, between 4pm – 6pm.