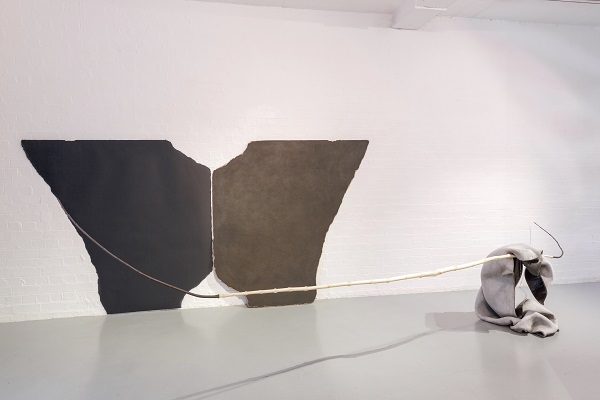 Cross Lane Projects is proud to welcome the Mark Tanner Sculpture Award 2017/18 exhibition as a new initiative to share it with audiences across the north of England. Frances Richardson's exhibition has been developed over the period of a year, as the 15th winner of the award.
Marking a significant development in her practice, the exhibition 'Not even nothing can be free of ghosts' presents a group of new works referencing the image of water and water's metaphorical use to suggest state of mind. The artist is fascinated by the potential of things and places to hold information that is not explicit or measurable by traditional observation. Her new work aims to provoke a visceral as well as intellectual response in the viewer.
A key piece in the exhibition is Eidolon. Eidolon is a Greek word for object and applies equally to an idea and a thing. The artist found a piece of chipboard on the street in Deptford, London, interested in its distinctive shape, she explains: "I made a mirror image of the board in paper as a way of getting to know it – in making it out of another material, I'm measuring it with that material. The two sit together in a kind of Rorschach… a death moth …or are they wings?"
Such mirrorings are apparent in several works in Not even nothing can be free of ghosts. The artist is interested in dualities; and investigates a splitting between the sense one can get from being with an object or place, and its measurable qualities.
Richardson's approach to sculpture draws out and exposes inherent properties in materials and the language of making. Using wood, veneer, video and copper for her new works, Richardson says "The material, and the way that you process the material, is integral to the spirit and meaning of the piece…it's the content of the work".
Coordinated by Standpoint Gallery, The Mark Tanner Sculpture Award is one of the most significant awards for emerging artists working in the field of sculpture in the UK. Offering £8,000 towards the making of new work, it rewards outstanding and innovative practice, with a particular interest in work that demonstrates a commitment to process, or sensitivity to material. Richardson was selected from 232 applicants by a panel comprising British artist Alison Wilding RA, British Sculptor Denise de Cordova, MTSA trustee Rebecca Scott and MTSA winner 2016/17 Beth Collar.
Cross Lane Projects, Cross Lane, Off Kirkgate, Kendal, Cumbria LA9 5LB www.crosslaneprojects.com
Free entry. Open Thursday to Sunday, 12 to 6pm