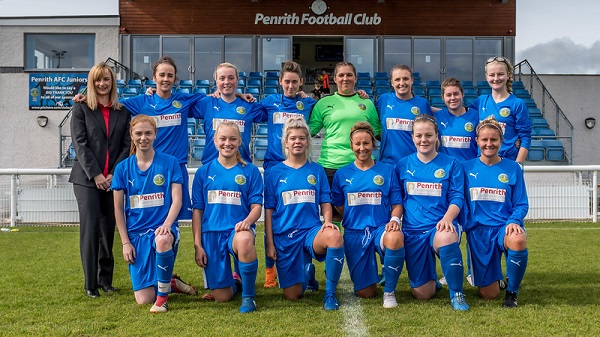 Penrith AFC Ladies were left frustrated after twice leading in this game before eventually surrendering the points to a resilient Finney team.
Penrith took the lead midway through the first half when Sharina Robinson broke clear and lifted the ball over the keeper. However this lead was short lived as Finney hit back within a minute.
On the stroke of half time Penrith regained the lead when Heather Fawkes swept home a cross from Livvy Johnston.
HT 2-1
Finney came out after the break in determined mood and were dominating the game. Penrith resisted well for a period however the pressure eventually told and Finney scored a deserved equaliser. Finney now pushed for the win and took the lead in the 74th min.
Penrith, desparate to get back in the game piled the pressure onto Finny in the final 15 mins of the game. Georgia Campbell, Becca Buchanan, Hannah Coulthard and Livvy Johnston all had good chances to equalise however, frustratingly, the ball would not find the net and Finney hung on for the victory.
FT 2-3
This Sunday Penrith AFC Ladies travel to face Tranmere Rovers.
Penrith: Lawson, Smethurst, Han Fawkes, C.Smith, McCormick, Hea Fawkes(Campbell), Nutter(Buchanan), Johnston, Robinson, Hopton, Gaulton(Coulthard).