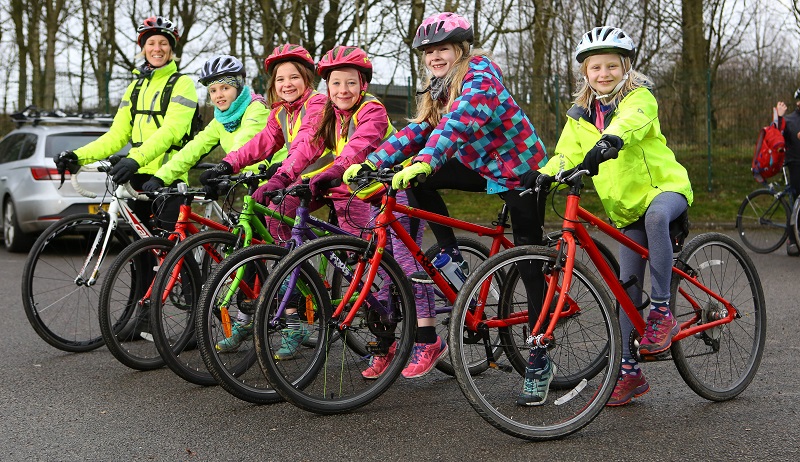 More children in Cockermouth will be able to get involved with cycling after a local club has been awarded a £3,000 grant to buy new equipment and provide professional training to its volunteer coaches.
Thanks to the funding from financial services company OneFamily, the coaches at Cockermouth Youth Cycling Club are set to complete the British Cycling Level 2 Coach and Ride Leader awards in early 2019. The group was awarded the grant after it was nominated for a OneFamily Foundation Community Grant.
The leadership qualification will boost the standard of training on offer at the club and means the coaches can train five times as many young people at one time. This will allow more young people across Cockermouth to develop their competitive cycling skills by accessing quality coaching and regular training.
The money will also be used to purchase a new bike trailer, which will transport the group and its equipment to competitions across the UK.
Founded in 2017, Cockermouth Youth Cycling Club offers young people aged eight to 18 the chance to get involved with road cycling. Its members meet on a weekly basis at Cockermouth School, with training sessions taking place across the local countryside.
The group was nominated for a Community Grant by its founder Richard Horton, whose three children hold Child Trust Funds with OneFamily.
Richard said: "Our road cycling club only started in 2017, but it's already proven to be incredibly popular with local children and young people. It gives them an opportunity which simply didn't exist before – the chance to train and develop their cycling skills together, and potentially travel the country to compete in a sport they love.
"We wouldn't be able to run our club without our fantastic volunteer coaches, but their current qualifications mean that they're only able to take eight young cyclists out on the road at a time. This means our sessions are at maximum capacity, making it difficult to welcome any more people.
"With this grant, and the qualifications it will pay for, we'll be able to offer more young people the chance to enjoy group cycling, as well as all of the physical and social benefits associated with the sport.
"We can't thank OneFamily enough for awarding us this money, and it will make a huge difference to young people in Cockermouth for many years to come."
Emma Banks, Head of Corporate Affairs at OneFamily, said: "Groups like Cockermouth Youth Cycling Club are a vital part of local communities and have a huge impact on young people's wellbeing. However, for the full community to get involved and benefit it's incredibly important that local sports clubs and organisations are properly supported.
"Our Community Grants support causes that our customers care about, and over the past three years the OneFamily Foundation has provided essential funding to more than 250 community projects across the UK."
OneFamily customers can nominate local groups, projects and charities to receive up to £5,000 via its Foundation Community Grant scheme, with 30 projects benefiting in the last round of funding. For more information please visit: www.onefamily.com/your-foundation