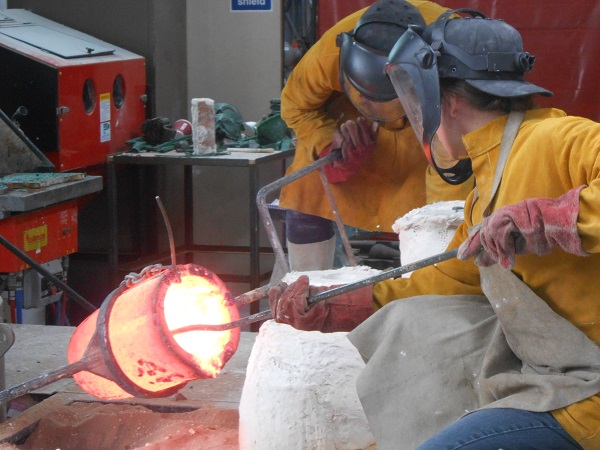 On Friday 5 July Forestry England will be unveiling its latest exhibition at Grizedale Forest – Seeing Through the Ground by Andrea Gregson.
Andrea Gregson's artwork, including graphite trace drawings and cast metal sculptures, delves into Grizedale's industrial history of iron smelting, charcoal burning, bobbin-making, gunpowder and graphite production. She explores the landscape as a relic of past production, and the history of interaction between people, nature, and industrial processes in the Grizedale valley. Gregson's installations were developed whilst spending time at historic iron smelting sites in Grizedale Forest and the nearby Stott Park Bobbin Mill.
One such piece, 'Carbon Delta', is cast from rocks found in Hobb Gill – one of the smelting sites – and transformed into ductile iron using the sand-casting process. This work, along with other bronze sculptures, alludes to the metal casting industry's dependence on water as well as acknowledging the glaciers that shaped the landscape.
Artist Andrea Gregson says: "In June 1989 I had a successful work placement at Grizedale Forest which gave me a unique insight into the potential of art and nature in dialogue. I am really pleased to return for this exhibition which explores the conflicts and connections between landscape, nature and industry within the context of the 'Anthropocene' – the current geological epoch shaped by human activity'.
Gregson's exhibition also includes sculptures inspired by organic forest elements, anchoring it in Grizedale's arboreal context. Bringing the forest into the gallery space, 'Spectre' is a multiple installation composed of bracket fungus, commonly found on trees weak from damage caused by man or nature, cast into porcelain like ghostly parasites on the gallery wall.
2019 is a fitting year for Gregson to be exploring Grizedale's history, as Forestry England, part of the Forestry Commission, celebrates 100 years of forestry. The Forestry Commission was established in 1919 to replenish the nation's timber reserves in the wake of WW1, and Grizedale was purchased by the Commission in 1937 as part of this endeavour.
The exhibition and a future sculpture commission have been supported by an Arts Council National Lottery Project Grant, and were awarded research funding from the University for the Creative Arts. There will be an Artist Talk (date to be confirmed), including a tour and object-handling session to prompt discussion.
A specially commissioned zine about the work with a text written by Dr Lizzie Fisher, an independent curator and art historian based in Cumbria, will be available during the show.
Seeing Through the Ground will remain in situ until 31 August.