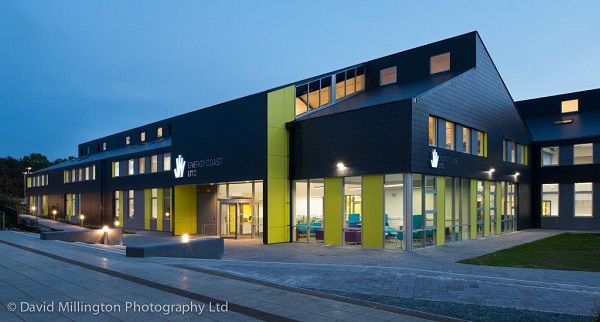 At a time when all schools are doing more than ever to support their communities, teachers from the Energy Coast UTC have just discovered they have been shortlisted for Education's Oscars – the Pearson National Teaching Awards.
The awards are an annual celebration of exceptional teachers and schools, and were founded in 1998 by Lord David Puttnam to recognise the life-changing impact an inspirational teacher or school can have on the lives of the young people they teach.
Selected from many thousands of nominations, Energy Coast UTCs staff have been shortlisted for three separate awards. They are the only school in the country shortlisted for three awards and the only school in Cumbria on the shortlist. The UTC has been shortlisted for:
Teacher of the year in a secondary school – Kerryann Wilson
Headteacher of the year in a secondary school – Cherry Tingle
Making a difference – secondary school of the year – Energy Coast UTC
The shortlisted nominees will now face judging from a team of experienced school experts before the Silver Award winners are announced. They will then compete to win one of just 14 Gold Awards which will be announced at the televised UK ceremony later in the year, broadcast on the BBC as 'Britain's Classroom Heroes'.
Barbara Stephens, Chair of the Energy Coast UTC Trust board, said: "We are honoured and delighted that all the hard work of all our staff and students, and that of our employer partners, has been recognised in being shortlisted for these very prestigious awards. These nominations are very well deserved and show the very real difference Energy Coast UTC makes to young people's lives. Cherry and her team work tirelessly to ensure every young person achieves the very best of which they are capable and has the best education and preparation for working life."
Rod Bristow, President of Pearson UK, said: "Our teachers in the UK are unsung heroes. In this crisis, many are working in schools with vulnerable children, and those that aren't, are working hard to enable learning to continue in incredibly challenging circumstances. They deserve our deep gratitude and recognition. Congratulations to every one of our teachers, lecturers and all school staff who have been shortlisted for a Silver Award. I'm proud that The Pearson National Teaching Awards recognise and celebrate teachers for their commitment, dedication – and heroism."
Steve Munby, Chair of the Teaching Awards Trust, said: "Congratulations to all of the amazing staff in the running to win a Silver Award. This is fair recognition of the outstanding job they are doing and their efforts in going well beyond their role to make sure their students get every chance in life.
"Now more than ever is the time to appreciate our teachers and the fantastic work they are doing. I am honoured to be part of these Awards and to play my part in acknowledging teachers for the incredible job they do."