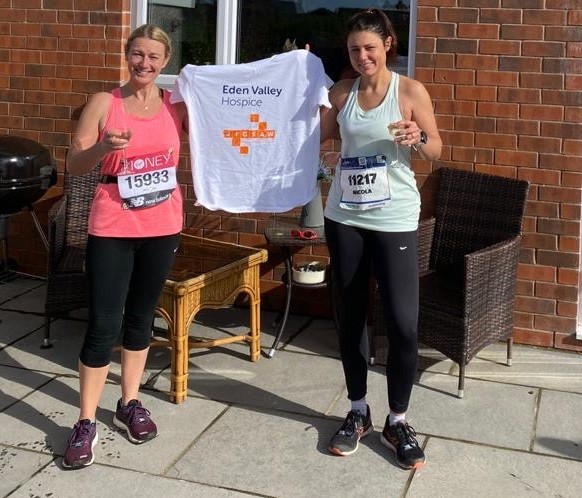 Last month two friends embarked on a virtual marathon challenge to support the vital care, compassion and activities provided at Eden Valley Hospice.
On Sunday 4 October, Nicola Berry and Tracey Caddle completed the Virtual Edinburgh Marathon and Virtual London Marathon respectively. The 26.2 mile challenge was special for both fundraisers as they raised money in aid of their local hospice.
Nicola, 33 from Carlisle, explained, "I chose to support Eden Valley Hospice because my friend Glenda, from my breast cancer group, went every week to the Day Hospice there. I know one day I will need to use the hospice myself, whether it be day care, long term care or bereavement support for my children. So, my husband, James, suggested raising the funds for Eden Valley Hospice.
"I ran the London Marathon in 2019 and after I was diagnosed I said I would never do another, until my crazy friend Tracey Caddle text me and said lets just do it and give us an aim."
Tracey, 41 from Carlisle, added, "I have a family member using the Day Hospice at Eden Valley Hospice and have found the support provided invaluable."
Over recent months virtual events have been popular with people looking to set themselves a personal or fundraising challenge. Whether running, cycling or walking, people have been able to choose their own distance, route and date whilst taking part in their chosen event.
Nicola continued, "The best part of the marathon was the support we received from our colleagues from HSBC coming to meet us at different points with drinks and of course our husbands and children for cheering us on at the end.
"The worst part was we miss calculated the route, so when we thought we had nearly finished we had to find an extra 2 miles to add on from our finishing point."
The kindness and generosity of Nicola and Tracey's family, friends and work colleagues has helped them to raise over £4,000 for Eden Valley Hospice, including match funding from HSBC. The money raised from Nicola and Tracey's marathon challenges will help the charity to provide the highest standards of care, support and activities to local people with life limiting illnesses. If you would like to support Nicola and Tracey's fundraising, you can make a donation online via their JustGiving pages – www.justgiving.com/fundraising/nicberry (Nicola) and www.justgiving.com/fundraising/tracey-caddle8 (Tracey).
As key workers, both the clinical and support staff teams at Eden Valley Hospice are here for the local community. The hospice is open and doing all it can during these times to continue to provide care and compassion to those in need, whilst following strict guidelines. The hospice is here for the local community and still supporting the NHS.
Nicola concluded, "It was an achievement to complete another marathon and it just shows anyone is capable of anything when they put their mind to it. As I am currently on chemotherapy tablets twice a day and it doesn't affect how I live my life."
If you would like to host your own fundraising event in aid of Eden Valley Hospice please visit www.edenvalleyhospice.org, email [email protected] or contact the Fundraising Team on 01228 810801.