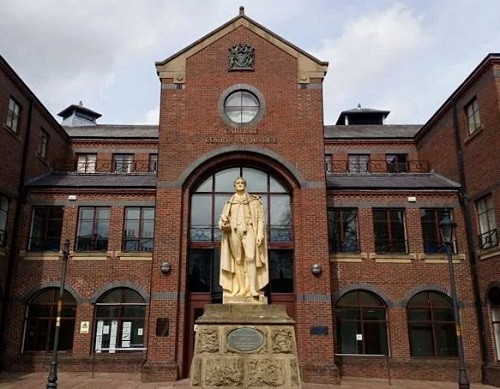 A Penrith woman spent four days in hospital after she was punched, kicked and injured by her partner as he "flipped" during an alcohol fuelled row.
A Castletown neighbour opened her door following a knock on February 6.
"This was (the woman) who appeared before her in a state of distress," prosecutor Gerard Rogerson told Carlisle Crown Court.
"Clearly injured, clearly in pain and asking for help."
She said her partner of three years, Liam James Jacques, had beaten her up and "taken her phone".
As the pair drank alcohol, Jacques, 30, had become "truculent and sensitive to criticism", and "flipped".
After he smashed a plate, the woman threw his fishing bag out of the back door. Jacques "saw red", grabbing hold of the woman, punching her to the face and kicking her to the back of the head.
After she got up, Jacques attacked her again, shoving her down and kicking her side.
"He put his hand over her mouth, trying to shut her up," said Mr Rogerson, who revealed the woman had posed the question: "What's he going to do, kill me next?"
Her injuries included a fractured rib. She was detained in hospital for four days and needed help from an elderly mother she was supposed to be caring for.
"I honestly just can't believe that this has happened. I feel horrified and I struggle to put into words how I'm feeling," said the woman as she outlined the impact on her.
"He has hurt me too many times to forgive now. I just want to be able to move on in peace and without any fear in my life."
Jacques, a ground worker, admitted actual bodily harm assault, and had a previous conviction for assaulting the woman in similar circumstances on Christmas Day, 2017.
He had drunk more alcohol than was good for him during lockdown, said his lawyer, Paul Tweddle, and "behaved in an appalling way".
"Their relationship is over. Both parties accept that," added Mr Tweddle.
"The defendant fully accepts that he – and he alone – is responsible for the injuries."
Jacques, of Maple Drive, Penrith, was jailed for 18 months and banned from contacting his ex for five years.
Recorder Ciaran Rankin said of the community punishment previously handed down for the 2017 assault: "You do not seem to have learned from the lesson and opportunities presented to you as to how it is you are supposed to act around partners."