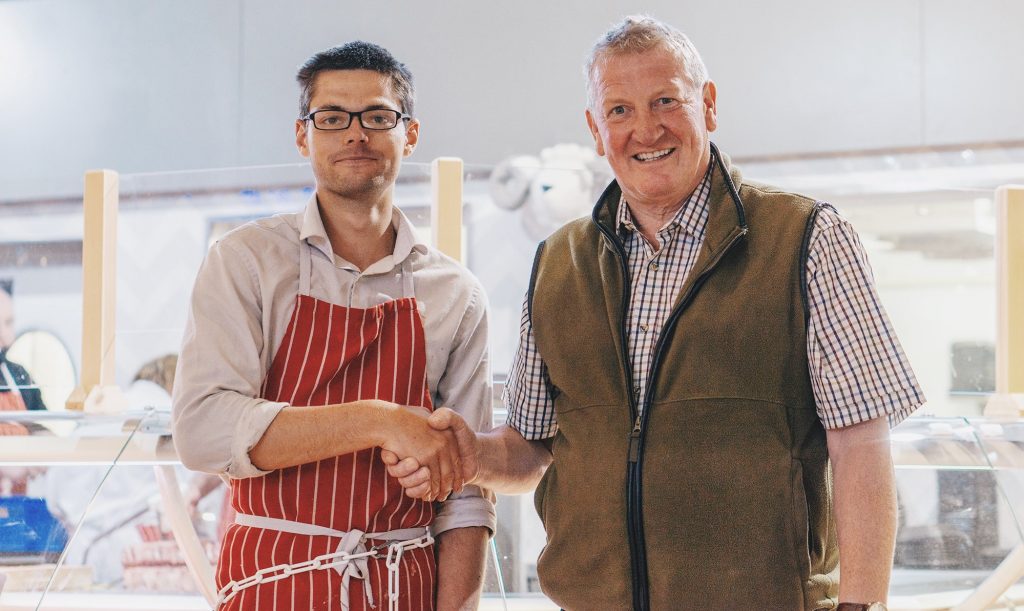 An apprentice butcher who was one of the stars in Channel 4 documentary A Lake District Farmshop is delighted to learn he has achieved his dream.
Ryan Goddard shared his dreams of becoming fully qualified with viewers of the popular four-part series about Tebay Services.
He just learned that he passed his final assessments and was welcomed as a fully qualified member of the Tebay Services team by head butcher Dave Morland.
"He was chuffed to bits," said Dave of the moment when Ryan heard the news from his assessor that he'd achieved his goal.
"He's told me it was one of the happiest moments of his life. This is what he's dreamed of, to gain this qualification in something he enjoys and is good at."
Ryan is the 10th apprentice Dave has trained since joining Tebay Services as head of butchery in 2007.
In A Lake District Farmshop, the four-part series made by Purple Productions for Channel 4, Dave has been giving millions of viewers an insight into the knowledge and skill that makes the traditional butchery counter at Tebay Services such an extraordinary thing to find on the motorway.
"The sort of butchery we do requires a certain skill level," said Dave, whose team practises the craft of whole-animal or 'nose-to-tail' butchery.
This means they work with whole carcasses, cutting them down into a very wide range of cuts – including Dave's beloved Barnsley, a double-ended lamb chop – and are trained to cut any chop, rib or steak to customers' exact requirements from whole primals.
"Unfortunately, over the years, with the demise of high-street butchers, younger butchers haven't had so many opportunities to learn these skills," said Dave, whose team are also specialists in native-breed meats, including beef, lamb and Herdwick mutton from Tebay Services' own farm.
"To keep this type of butchery alive, to secure what we do in our business for the future, it's vital we pass on this skill to the next generation."
In Ryan, Dave said, Tebay Services has an excellent young butcher on its hands.
"He's very enthusiastic and he's enjoys engaging with the challenge of providing whatever the customer requires.
"Ryan has all the qualities a good butcher needs: skill, concentration, strength and stamina," Dave said.
"He's got a great work ethic and a great work attitude and we wish him a long and happy future with Tebay Services."
A Lake District Farmshop is now streaming on All4.
More about A Lake District Farmshop
A Lake District Farmshop goes out with a zesty flourish
Meet the pie maker carrying on in memory of her dad here.
Meet Jake Winter – the youngster preserving a Cumbrian brand here.
Read our review of the first episode here.
Meet the record-breaking potter who stars in episode two here.
Find out more about the series here.
Meet the butcher and baker who are integral to Tebay Services here.
How COVID-19 brought ramen to Tebay Services.
How did Tebay Services start life? Find out here.