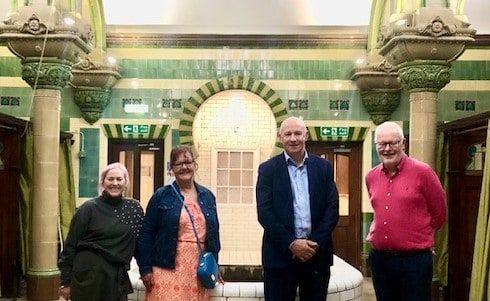 A family connection has been revealed which links the chairwoman of a campaign group to the baths which she supports.
"Despite being part of the original plans for the public baths, the Turkish Baths were only added 25 years after the James Street baths and Wash-House opened in 1884. Debate about the Turkish Baths raged for several years and was only settled at a meeting of Carlisle Town Council on 2 September 1908 when a motion to delay construction yet again was defeated by 24 votes to 8. Amongst the 24 aldermen and councillors who voted to go ahead was councillor J.H. Minns.
"I fell in love with the baths when a first visited a few years ago, but it's only since launching the Friends Group earlier this year that I discovered my great grandfather was one of the politicians who helped ensure the Turkish Baths were built in the first place.
"It's brilliant that today's politicians, like John, share our passion for Victorian buildings such as the baths, which continue to provide a valuable service to Carlisle's residents", said Julie Minns, chairwoman of the Friends of Carlisle Victorian and Turkish Baths.
Julie met with other members of the campaign group and with Carlisle MP John Stevenson to mark 113 years since Carlisle's town council awarded the contract to local builder William Johnstone for the construction of the Turkish Baths.
John Stevenson said: "We are extremely fortunate to have inherited such wonderful, well-built and attractive buildings like the Citadel Station, Tullie House and the Turkish Baths from our Carlisle ancestors.
"Whilst other cities can boast similar stations and museums our Turkish Baths are one of only twelve in the whole of the UK – and the only ones in the North West – to have survived from the Victorian and Edwardian era. Carlisle's Victorian craftsmen and women clearly knew how to build things that would last for generations."
Since reopening following the lifting of COVID restrictions in July, the number of people using the Grade II listed Turkish Baths has significantly increased with many sessions now regularly fully booked.