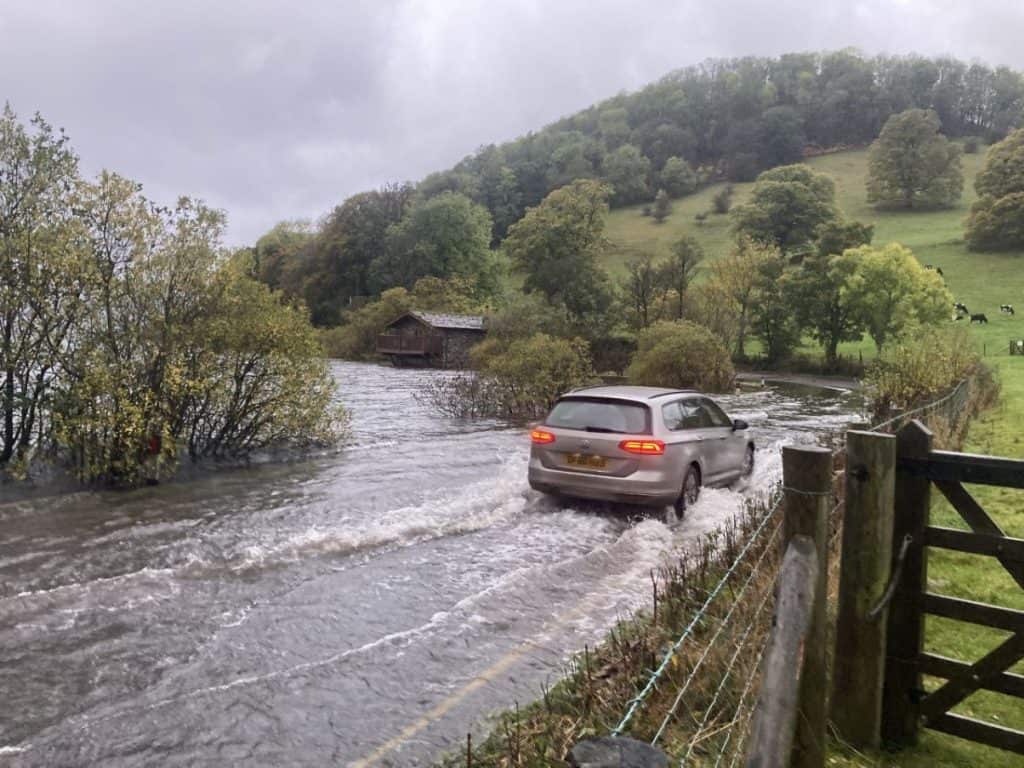 We'll be here all day keeping you up-to-date with what is happening across Cumbria as rain continues to batter some parts of the country.
It looks as though the vast majority of us managed to escape flooding, but we'll be letting you know what is going on today.
But we need your help….please email [email protected] with any news, photos and videos of what the situation is where you are and we'll keep the county informed.
Friday October 29
4.57pm
Keswick rugby club's game against Southport will not be played on their home ground due to flooding. Find out where they are moving to here.
4.41pm
Is this the light after the storm?
Susan Anderson sent us this picture. She says: "It's lovely in Allonby this afternoon. Been for a nice walk on the beach with the dogs and no wet coat to hang up when I got home."
3.47pm
Really pleased to see the river has gone down in Cockermouth. Across Cumbria @EnvAgencyNW flood defences have saved over 1200 properties from flood in past few days but my thoughts are with those that have. If you are worried about flooding then check ➡️ https://t.co/NvaljE7XLM pic.twitter.com/UluVVeqYzd

— Stewart Mounsey (@stewart_mounsey) October 29, 2021
1.53pm
Driving in just 30cm of flood water is enough to float a car and flood water can hide other dangers in the road which can cause vehicles to become stuck.

More rain is expected over the weekend so we have to remain vigilant and work together and protect each other.

Thank you.

— Cumbria County Council (@CumbriaCC) October 29, 2021
1.51pm
Latest weather forecast from the Met Office:
Still a very unsettled picture across N England, especially west of the Pennines, over the closing days of October with further weather systems moving through from time to time and both rain and wind featuring.
That said, amounts of rain will be well below what has been recorded across Cumbria over the past couple of days but could still be capable of generating some impacts.
As we move into November we should see the winds coming in from a more N to NW'ly direction which should usher in a much drier two or three days, albeit with cooler temperatures.
Weather events of the coming week that merit (some) attention: Rain in the next few hours moving NE'wards through all areas, some of it heavy, especially NW England, but clearing through during the course of this afternoon.
Then a drier, clearer weather window through this evening and for a time overnight.
The next weather system will spread rain from the west across all of the hub from the early hours of Saturday through until early to mid-afternoon when it clears the NE coast.
Some heavy bursts of rain may be embedded within the general rain area.
A further weather window will extend from tomorrow afternoon through until the early hours of Sunday morning when a further belt of rain, possibly heavy and accompanied by strong winds, pushes steadily E'wards across the whole hub, clearing the E coast by early afternoon.
Blustery showers will follow into NW England and these could merge into a longer spell of rain overnight into the early part of Monday, this mainly affecting areas over and to the west of the Pennines.
A period of strong W to SW winds may affect many parts of N England during Sunday night and early Monday but details still a bit uncertain as to speed of gusts and duration.
Much less impactful weather expected from Monday afternoon onwards as winds gradually move round to a N to NW direction, bringing colder conditions with a few showers but also more in the way of brighter skies and some sunshine. Nights may become cold enough for a little frost in sheltered locations.
1.43pm
#TeamEA are out checking #flood defences that are protecting more than 14,000 homes & businesses from flood water in #Cumbria. Come and say hello if you see us.#FloodAware
Find out more about river & sea levels near you online https://t.co/hoEi8w54WM pic.twitter.com/3Vx1ZpSKun

— Env Agency NW (@EnvAgencyNW) October 29, 2021
1.41pm
Duddon Bridge is now fully open to traffic.
Holmrook and Egremont South Bridges have been approved for reopening and our teams are working to reopen them now.
1.38pm
Cumbria County Council has released a list of closed roads across the county:
Closed
Arkleby to Oughterside
Impassable vehicles stuck in flood water

Maryport to Broughton Moor
Road closed – Vehicle stuck in flood water
South Street footbridge, Cockermouth

Portinscale footbridge

A592 Ullswater
Lake has overtopped and road is now impassable between the A5092 and Dalesmain junctions.

Low Road, Whitehaven

Wath Brow to Ennerdale
Egremont Bridge, Egremont
A595 Holmrook
River has burst its bank and flooded the carriageway. Given the tides/rainfall, this may not reopen until the weekend.
A593 Clappersgate
River Burst and flooded carriageway. River levels need to drop before it can reopen.
Take care
B500 Maryport Golf Course
Road lifting. Traffic signals being put in place.
B5289 Near Ramblers Association
Becoming Impassable
Coronation Drive, Whitehaven
Bransty Road Whitehaven
Getting worse and may need to be closed
1.26pm
Don't believe the hype: A Cockermouth resident says false messages and old pictures of the town have the potential to do long-term damage and the town will survive. Read more here.
1.20pm
1.13pm
Joe Hill sent us the picture above of what Southwaite looks like today.
Here's what it looked like yesterday:
1.07pm
The A595 is closed in both directions between the B5295 junction with Hensingham due to flooding. Drivers are being urged to allow extra time for their journey.
1.06pm
#TeamEA Community Support Workers are out today supporting residents & businesses in communities across #Cumbria impacted by #Flooding.#PrepareActSurvive
You can find out more about river levels and sign up for free flood warnings online https://t.co/icIb8rwgoB pic.twitter.com/GZ6koD4ylY

— Env Agency NW (@EnvAgencyNW) October 29, 2021
12.54pm
Home carers from a Cumbrian firm say they are still out, providing crucial services. Read more here.
12.24pm
It is being reported that Honister Pass saw more than 30cm of rain in a 24-hour period.
12.23pm
11.33am
Thanks to Clive Rowlandson for this photo of the road by Ullswater, taken last night.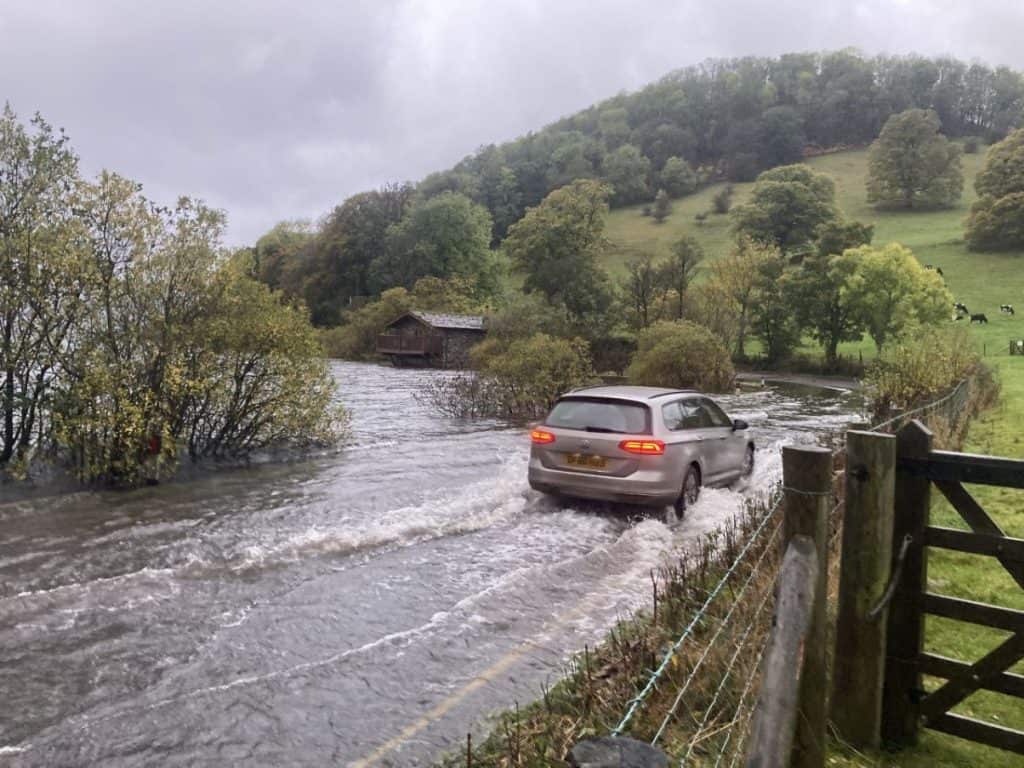 11.26am
The A592 alongside Ullswater is now closed due to rising lake levels, according to Cumbria County Council.
The closure is in place between junction B5320 Portland Boat House and Watermillock.
11.18am
This photo was sent in to us – it has been taken by Les Byers
10.44am
Our teams are working hard to assess all road/bridge closures.

Inspections will be taking place this morning to determine if roads and bridges are safe to reopen again.

When we have the outcomes of these inspections, we will provide further updates. pic.twitter.com/IdSdqxVN0f

— Cumbria County Council (@CumbriaCC) October 29, 2021
9.27am
The Swan Hotel in Newby Bridge, Ulverston, has requested that guests do not travel to stay at the venue.
It posted on Facebook: "Due to the heavy rain and risk of flooding we are seeing throughout the county, we are asking residents and guests not to travel to The Swan at this time.
"If you are due to stay with us, we will be in touch as soon as possible to discuss next steps, but please do bear with us as our phonelines are extremely busy at the moment."
8.22am
The Environment Agency said it had not received any further reports of properties flooding overnight. It added that rivers have peaked and lakes are levelling out.
However, the rivers Ehen, Derwent and Cocker will rise again later, but to a lower level.
8.12am
7.42am
It's being reported that around 40 properties flooded in West Cumbria. We'll bring you more as we get it.
7.38am
More bus news:
Services X4, X5, 1, 2, 3, 3A & 29 in the West Cumbria/Carlisle area will operate with service reductions until tomorrow. Normal service will resume on Sunday. Visit stge.co/CbTL50Gvn7p for more details.
7.34am
The M6 has reopened following a lorry fire yesterday morning.
National Highways said the northbound carriageway of the M6 opened around 1am near Shap.
The blaze happened at around 7.35am and it resulted in the northbound carriageway being shut. A diversion was put in place from Junction 36 via the A6.
7.28am
Train firm Northern is running a road replacement service between Maryport and Carlisle today. It said travel times may be extended as road conditions in the area are also affected by the poor weather.
7.15am
#WestCumbria Suspension to services due to severe flooding & debris on route our lakes services 77, 77A, & 78's (Keswick to Seatoller & Buttermere circular) are unable to operate for the duration of today. #staysafe

— Stagecoach Cumbria & North Lancashire (@StagecoachCNL) October 29, 2021
7.12am
The Met Office has downgraded its weather warning from amber to yellow.
7.06am
Nine flood warnings and 14 flood alerts remain in place for Cumbria. Read more here.