[R]ugby players from Hindpool Tigers, Barrow and other local clubs made helping the Bayb's Maternity Appeal their goal when they took part in the recent Cumbria Clubs Masters Festival held at the Tigers' Brisbane Park home ground.
All players paid £5 to enter the competition. With Hindpool Tigers paying for trophies, after costs for post tournament food and drink had been deducted, the £200 left over was shared equally between the appeal, which is fundraising to make the new South Lakes Birth Centre at Furness General Hospital second to none in the country, and the Rugby League Cares charity.
The donation comes on top of £300 gifted to the appeal last month by Tigers' chairman Graham Shaw on behalf of the club, which raised the money by hosting a comedy night.
Appeal co-ordinator Heidi Bowron said: "We are very grateful to Hindpool Tigers and all players from the other clubs that took part – Barrow, West Cumbria and Carlisle. It's fantastic that these sportsmen showed such great sportsmanship by using their love of rugby to help their local community through supporting the appeal."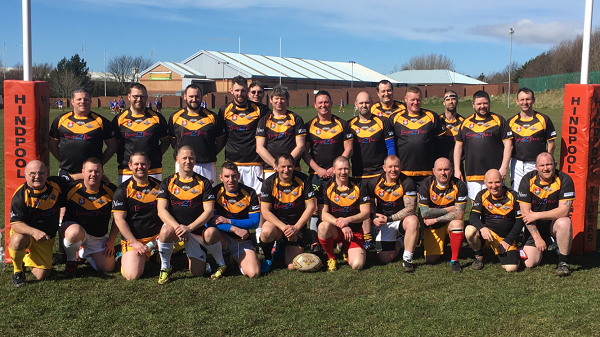 The Bayb's Maternity Appeal is funding "extras" for the £12 million South Lakes Birth Centre with the aim of making it one of the best places in the country to give birth.
These "extras" fall outside the remit of what the NHS is able to fund but add much to what the centre is able to offer both staff and patients in terms of comfort, choice, peace of mind and training.
To find out more about the appeal and to make a donation, visit Bay Hospitals Charity's website at www.bayhospitalscharity.org