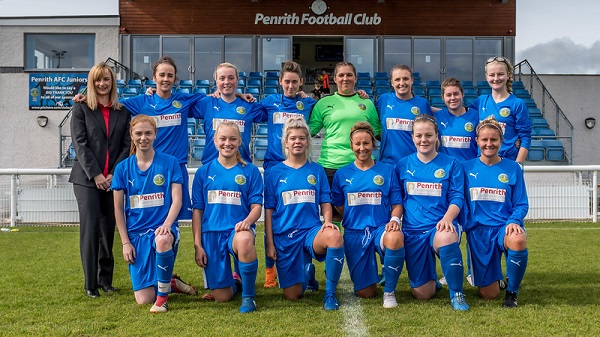 Despite competing well for long periods of this encounter Penrith were ultimately well beaten by a ruthless Mossley Hill team who move to the top of the North West Regional Premier Division.
The first half was relatively even with neither team exerting any real authority on the game.
Mossley Hill took the lead on the 19th min when a Penrith tackle inadvertently played the ball into the path of the Mossley Hill striker who slotted past Hope Lawson in the Penrith goals.
Penrith had their chances to equalise through Georgia Campbell, Hannah Coulthard and Lily Gaulton but they all failed to convert their chances.
On the stroke of half time Mossley Hill extended their lead when Penrith failed to deal with an in swinging corner and the loose ball was smashed into the net.
HT 0-2
Penrith were caught napping in the right at the start of the 2nd half as Mossley Hill sliced through their defence with an incisive passing move.
Mossley Hill were now on top and looking in control.
Penrith had their moments as Lily Gaulton and Heather Fawkes squandered good chances however Mossley Hill clinically wrapped up the game with 2 late goals to make the final score 0-5.
Manager Simon Savage said "Despite the scoreline we can take many positives from our performance. We have competed well for long periods against a very good Mossley Hill team. The 2 goals either side of half time were frustrating and showed a lack of concentration on our part. We must learn these lessons."
This Sunday Penrith hit the road again as they travel to face Manchester Stingers.
Penrith : Lawson, Alderson(Glendinning), Han Fawkes, Ullyart, McCormick, Campbell(Hea Fawkes), Nutter, Coulthard(Johnston), Robinson, Hopton, Gaulton.